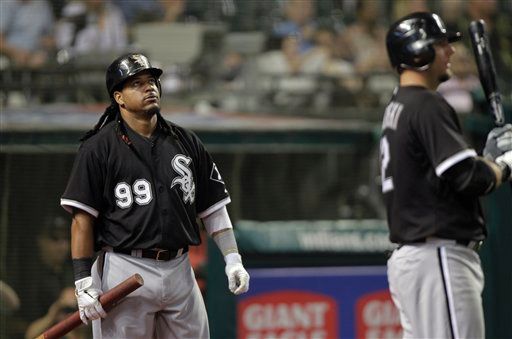 AP Photo
After weeks of buildup, Manny Ramirez is finally set to make his debut for the Chicago White Sox. Ramirez is in manager Ozzie Guillen's starting lineup today (Noon ET), batting fifth as the designated hitter for the series finale against the Indians. Ramirez joined the White Sox on Tuesday, but only got as far as the on-deck circle to pinch-hit in the ninth inning. The White Sox start the day four games behind the Twins in the AL Central.
Getty Images
Texans Season Ticket Sales Hit Record
The Houston Texans have sold a record number of season tickets. They play Indianapolis in their regular-season opener at Reliant Stadium. As of Tuesday, the Texans had sold 64,355 season tickets, an increase from 2008 when they set a season high with 64,047. Texans president Jamey Rootes said, "This is our largest season-ticket base, and we'll continue to sell season tickets through the Indianapolis game. We've sold out every game we've played, but this season, with fan anticipation of what we're capable of doing, the schedule that includes the Cowboys twice and the NFC East, those things helped us get to an all-time high in a very challenging environment."
Getty Images
By 5 p.m. ET today we'll finally have a verdict from the NHL regarding Ilya Kovalchuk's latest contract. While the ruling will bring closure to this chapter of the seemingly endless saga of Kovalchuk's free agency, the fallout will just be beginning. If the contract is approved, it will start a chain reaction of roster moves so the Devils can shed approximately $3 million in salary cap space to get under the NHL's $59.4M ceiling. If the contract is denied, the NHL Players Association will have five days to -- again -- file for arbitration on behalf of Kovalchuk. Should the deal be struck down a second time, Kovalchuk could also elect to play in his native Russia in the Kontinental Hockey League.
The Associated Press contributed to this report.