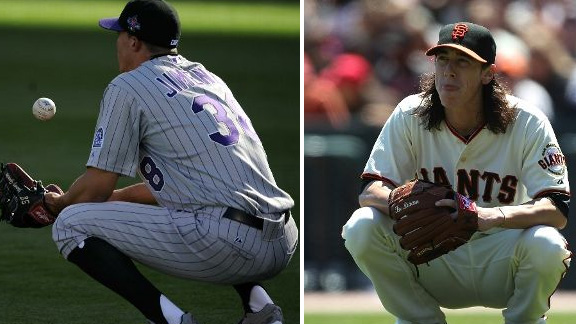 Getty Images/Getty Images
Colorado Rockies (69-62) at San Francisco Giants (73-60)
9:15 PM ET -- AT&T Park, San Francisco, California
Starting Pitchers
Colorado: Ubaldo Jimenez (17-5, 2.71 ERA)
San Francisco: Tim Lincecum (11-9, 3.80 ERA)
Despite recent struggles, Ubaldo vs. "The Freak" headlines tonight's NL matchups. Neither pitcher has won a start since August 4, the date of Jimenez's league-leading 17th win. Since the All-Star break, Ubaldo has won only twice. Lincecum has struggled even more than Jimenez, going 0-5 with a 7.82 ERA in his last five starts. "The Freak" had never lost three consecutive starts in his career before this current skid. The last Cy Young winner to lose at least five consecutive starts the following season was Orel Hershiser who lost six straight starts in 1989. No defending Cy Young winner had ever lost five consecutive starts while allowing at least three earned runs in each game, as Lincecum has done.
Game Preview: COL vs SAN
Getty Images
Toronto Blue Jays (69-63) at Tampa Bay Rays (81-51)
7:10 PM ET -- Tropicana Field, St. Petersburg, Florida
Starting Pitchers
Toronto: Shaun Marcum (11-7, 3.61 ERA)
Tampa Bay: David Price (15-6, 3.01 ERA)
One game separates the New York Yankees from the Tampa Bay Rays who host the Jays tonight. David Price figurines will be given out to the 1st 10,000 fans. Entering Tuesday, the Rays are averaging 22,940 fans, so that would mean most likely 43.5 percent of an average crowd at Tropicana Field would go home with the figurine. Price hopes to make the fans happy, he's 5-0 with a 2.09 ERA in 6 career starts against the Blue Jays. Toronto has split its 14 meetings with the wild card-leading Rays this season, but has been limited to three or fewer runs in 10 of those games, frustrated by a staff that ranks second in the AL with a 3.70 ERA. Shaun Marcum throws for the Jays against Price for the third time this year. He has allowed 12 runs and 20 hits in 12 1/3 innings, losing both previous efforts.
Game Preview: TOR vs TAM
Getty Images
Indiana Fever at New York Liberty
7:30 PM ET -- Madison Square Garden, New York, NY -- NBA TV
The Fever and Liberty play tonight for a ticket to play the Atlanta Dream in the WNBA's Eastern Conference Finals. Indiana's Tamika Catchings was selected as the league's defensive player of the year and earned the league's sportsmanship award. She recorded her 14th double-double in 30 career playoff games during Sunday's 75-67 victory. Liberty star Cappie Pondexter finished 8 of 22 from the field Sunday and is shooting 37.7 percent in the first two games of the playoffs. She will try to help her team advance out of the first round for the first time since 2008 after missing the postseason last year.
Game Preview: IND vs NYL
Note: The Elias Sports Bureau and ESPN Stats and Information group contributed to this report.