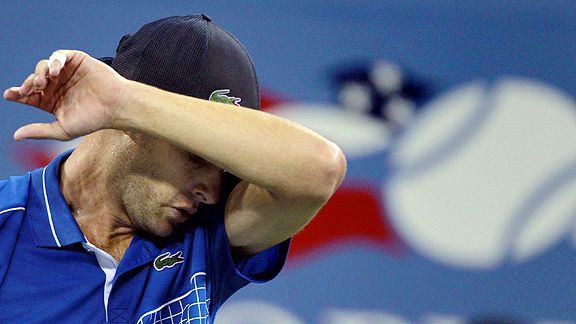 AP Photo/Charles Krupa
Janko Tipsarevic Ousts Andy Roddick
Andy Roddick won't win the 2010 U.S. Open. Roddick lost in four sets Wednesday night, falling to Janko Tipsarevic in the second round. Roddick's early exit follows a fourth-round loss at Wimbledon. The ninth-seeded Roddick revealed recently that he had a mild case of mononucleosis.
Nyjer Morgan Charges Mound, Triggers Bench-Clearing Brawl in Marlins Win
Fists were flying Wednesday in Florida. Nationals CF Nyjer Morgan charged the mound after a Chris Volstad pitch sailed behind him, triggering a bench-clearing brawl during the Florida Marlins' 16-10 win. Morgan, Florida's manager Edwin Rodriguez, Volstad and Marlins pitcher Jose Veras were ejected.
Arizona Talking to Three Teams
The Arizona Cardinals may have had enough of QB Matt Leinart. This according to sources who told ESPN NFL Insider Adam Schefter the team has been in talks with Buffalo, Oakland, and the New York Giants to inquire about a possible trade for the former first-round draft pick out of USC.
Sources: Roethlisberger Wants Shorter Ban
Ben Roethlisberger has a request for NFL Commissioner Roger Goodell. When the Steelers QB meets with Goodell Friday, his representatives plan to ask the commissioner to reduce the six-game suspension by at least three games, sources with knowledge of upcoming proceedings told ESPN.
Big Ten Reveals Divisional Breakdown
The rivalry will continue. The Big Ten announced its divisional breakdown Wednesday night, splitting long-time rivals Ohio State and Michigan. Each will be in different six-team divisions when the league expands to 12 members in 2011, possibly facing each other twice.
Tar Heels DT Austin Suspended Indefinitely
North Carolina coach Butch Davis suspended defensive tackle Marvin Austin indefinitely on Wednesday for violating unspecified team rules. "This decision is not a result of the ongoing NCAA review," Davis said in a brief statement issued by the school. He will not play Saturday night when No. 18 UNC faces No. 21 LSU in Atlanta.
Konerko Plays Hero in Manny's White Sox Debut
For the second straight game, Manny Ramirez watched from a few feet away as one of his new teammates hit a game-winning homer. Ramirez went 1 for 3 in his debut, but he was on deck when Paul Konerko hit a three-run homer in the eighth inning to give the White Sox a 6-4 win.
Azarenka Collapses at U.S. Open
A scary moment at the U.S. Open Wednesday. Victoria Azarenka collapsed, was taken off the court in a wheelchair and hospitalized. The accident resulted from a concussion she endured after falling and hitting her head while warming up for her U.S. Open match versus Gisela Dulko.
Americans Remain Unbeaten After Winning First Meeting vs. Iran
Taking care of business. Kevin Love scored 13 points and Kevin Durant 12 for the Americans who defeated Iran 88-51 Wednesday. This was the first meeting between the countries with a history of contentious relations.
Cappie Pondexter's Late Jumper Helps Liberty Get by Fever
Put a Cap on it. The New York Liberty defeated the Indiana Fever 77-74 Wednesday night. Cappie Pondexter scored 30 points, including a tiebreaking jumper with 28 seconds remaining in the Liberty win. New York advances to the Eastern Conference Finals where they'll face the Atlanta Dream.
The Associated Press contributed to this report.