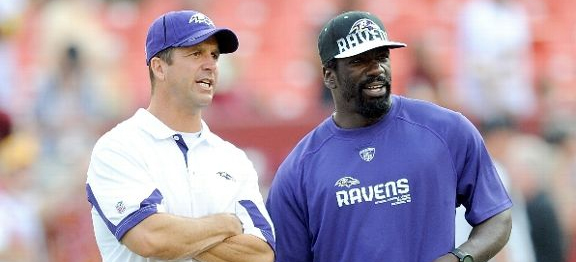 REX RYAN: "I WANT TO PLAY AGAINST ED"
On Saturday, the Ravens will decide whether to place safety Ed Reed on the reserve physically unable to perform list or activate him to the 53-man roster. Reed's been sidelined with a hip injury, and if he's placed on the PUP list, he'll be sidelined for the first six games of the season. Which would mean he would be sidelined for the season opener against the Jets. That would mean he would miss a chance to take on his former defensive coordinator, Rex Ryan. But Ryan doesn't think Reed will miss it. "Ed Reed will play this game. Now he might not play the second game, third game or fourth game, whatever, but Ed Reed is going to play this game. I think part of that is a respect thing. He knows how disappointed I would be if he didn't play. I want to win the game, but I want to play against Ed. I want them at their best and I know they will be."
WEATHER TO IMPACT DUETSCHE BANK CHAMPIONSHIP:
World number one golfer Tiger Woods and the rest of the field at the Duetsche Bank Championship this week may have more than just the course to contend with. The tournament tee times for Friday have been moved up 40 minutes with the threat of Hurricane Earl coming up the East coast. The tournament is the 2nd round of the FedEx Cup playoffs.
MORE: Deutsche Bank Championship Leaderboard | FedEx Cup keeps golf top of mind
Seattle Storm center/forward Lauren Jackson on Thursday will be named the WNBA's most valuable player for the third time, a source told ESPN.com. Jackson, who also won the MVP in 2003 and 2007, has helped lead the Storm to the Western Conference finals. She averaged 20.5 points and 8.3 rebounds a game this season. The Storm finished with a 28-6 record, the best in the league. Jackson is the youngest player, and fastest, in WNBA history to score 3,000 and 4,000 career points.
MORE: VIDEO