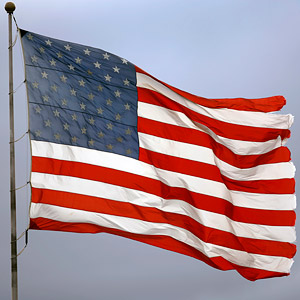 AP Photo/David Duprey
Back then, American flags had only 48 stars and sauerkraut was called "Liberty Cabbage."
Sept. 5, 1918: On this day in sports, the National Anthem is sung at a baseball game for the very first time. Group singing was nothing new to the Major Leagues, "Take Me Out to the Ball Game!" had been around for about a decade, after all. But this was the first time America's National Anthem has been sung at a ballpark and, presumably, the first time at an American sporting event.
The game was Game 1 of the World Series between the Boston Red Sox and the Chicago Cubs. The Cubs hosted their American League counterparts at Comiskey Park, forgoing their regular Wrigley Field for the larger confines available in the South Side.
The Red Sox' pitcher Babe Ruth threw a complete game, 1-0 shutout. Stuffy McInnis hit a 4th-inning RBI single off of the Cubs' Hippo Vaughn. The National Anthem festivities came during the seventh-inning stretch. America was in a fever of patriotism thanks to World War I, which was the same reason for the World Series extending into September.
The Sox went on to win the World Series, 4-2. They wouldn't win again until 2004. The Cubs, on the other hand ...