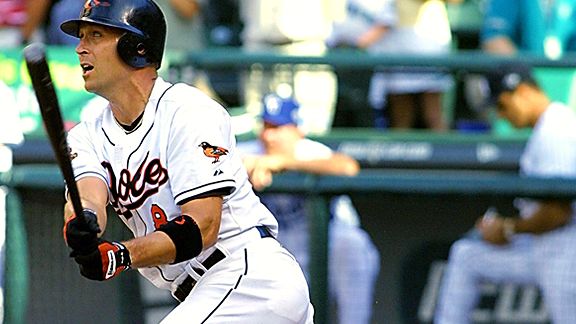 Dan Levine/Getty Images
In a game steeped with history and tradition, Ripken's name will be remembered for years to come.
September 6, 1995: Following a season with a bitter labor dispute, Cal Ripken begins the healing process as he steps out of the Baltimore dugout and into baseball lore, surpassing Lou Gehrig's consecutive games record before a rapturous Camden Yards crowd
In the bottom of the fourth inning, Ripken sent a 3-0 pitch from California's Shawn Boskie into left field for his 15th home run of the season. One inning later, with the game official, Ripken surpassed Gehrig's record of 2,130 straight games played. Play was suspended, teammates Bobby Bonilla and Rafael Palmeiro pushed him out of the dugout and Ripken began one of the longest, and most emotional, victory trots of his career.
Ripken's streak would continue for three more seasons and finally end at 2,632 consecutive games when Ripken removed his name from the lineup in the final game of the 1998 season. Ripken spent 21 years in the majors, all of them with the Baltimore Orioles.