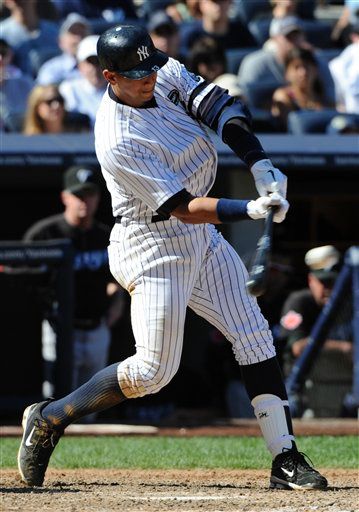 A-Rod returned Sunday from the DL and what happened? 2 for 5 at the plate, 1 RBI.
Final: Blue Jays 7, Yankees 3. (AP Photo)
Rangers' Josh Hamilton Talks Of Extended Absence
Josh Hamilton's bruised ribs could keep the major league batting leader out of the Texas Rangers' lineup longer than anticipated. Hamilton said Sunday that the injury, which forced him out of the Rangers' 12-4 loss to the Minnesota Twins on Saturday night, had him feeling "like I have been in a car wreck," according to MLB.com.
Report: Haynesworth Unlikely To Start Opener
The Washington Post is reporting that Redskins Defensive End Albert Haynesworth is unlikely to start in the opener against the Cowboys. Redskins' defensive coaches have worked hard to help Haynesworth prepare to play right end this season, but the situation is unsettled again after his poor showing in the team's final preseason game.
Sources: Texans Among Leaders To Sign Leinart
The Houston Texans have emerged as a leading candidate to sign former Arizona Cardinals quarterback Matt Leinart, league sources told ESPN NFL Insider Adam Schefter. The Texans were one of the first teams to contact Leinart after he was released Saturday and have been among the most interested teams, according to the sources. The Cardinals parted ways with the former Heisman Trophy winner days after Leinart went public with his frustration over being replaced by Cleveland castoff Derek Anderson.
Shanahan Confident McNabb Will Start vs. Dallas
The Washington Post reports Mike Shanahan is confident that Donovan McNabb is progressing with his ankle sprain and will start against the Cowboys week 1. On his weekly coach's show Shanahan said, "Yeah, I feel very good about him being ready to go. In fact, I think he'll be able to practice in the next couple of days. And I feel very good about the direction he's headed." Shanahan said that McNabb is still trying to pick up some of the terminology of the of the team's offense.
Rangers' Lee Will Miss Next Start With Sore Back
The Texas Rangers will take a cautious approach with pitcher Cliff Lee and he will not make his scheduled start Tuesday at Toronto because of a sore back. Lee, who the Rangers acquired earlier this season from Seattle, threw a bullpen session on Sunday and his back loosened up. Lee only threw in the outfield on Saturday and reported some continued discomfort in the area of his back where he recently got a cortisone shot. Lee is 2-5 with a 4.69 ERA since coming to Texas.
Ratings For Notre Dame Opener Up 77 Percent
The start of the Brian Kelly era attracted a large television audience for Notre Dame. Saturday's preliminary rating was up 77 percent from last year's opener ... even though last year's opponent was Nevada. NBC said Sunday that the Fighting Irish's 23-12 win over Purdue drew a 2.3 overnight rating and 6 share. It was up 15 percent from the last Notre Dame home game against Purdue in 2008.
#3 Venus Gets By #16 Peer At U.S. Open
On a Sunday afternoon in which No. 2 Kim Clijsters cruised to her victory at the U.S. Open, third-seeded Venus Williams never looked quite comfortable in hers. She defeated 16th-seeded Shahar Peer 7-6 (3), 6-3 on the second straight windy day in Arthur Ashe Stadium. Williams got only 48 percent of her first serves in. She faced six break points and lost three. She squandered five chances to wrap up the first set in a 22-point 12th game.
Jermaine Cunningham May Play Season Opener
According to the Boston Herald, the Patriots will get some pass-rush help when the regular season begins. Outside linebacker Jermaine Cunningham, who missed all four preseason games with a high-ankle sprain, should be ready to practice this week. He is expected to be ready to play on Sunday in the regular season opener against the Bengals. Cunningham is a rookie second-round pick from the University of Florida.
Bolt Says He'll Try Soccer After Track Career Ends
Jamaican sprinter Usain Bolt says he'll attempt to play professional soccer once he brings his track and field career to an end. The world and Olympic 100- and 200-meter champion believes he has four years left in track and field. Bolt then intends to try his luck in soccer. He says he would be a "defensive or attacking midfielder."
The Associated Press contributed to this report.