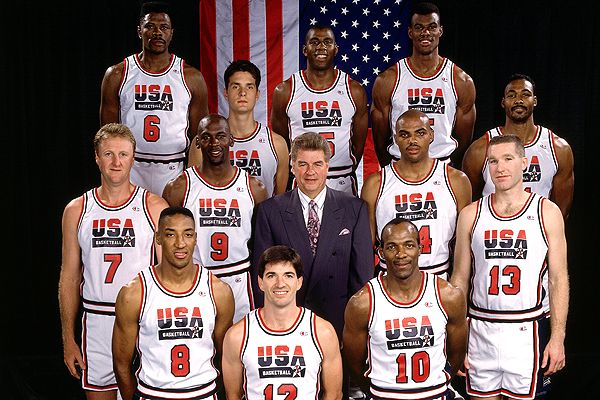 "I DON'T KNOW ANYTHING ABOUT ANGOLA..."
"...but I know they're in trouble."
- Charles Barkley, 1992
Angola was the first to fall to the Dream Team in the Barcelona Olympics. Barkley led the way with 24 points. He also memorably led the way with the point of his elbow, which led to an intentional foul call, which led to the free throw that represented the only point Angola scored in a 46-1 run in the first half. It ended 116-48. Angola also fell to the Redeem Team in the Beijing Olympics two years ago. But over the 16 years, they closed the gap against LeBron James and Co. from 68 points to 21, losing 97-76. They get another shot at Kevin Durant and Co. this morning (11:00 a.m. ET on ESPN2) in the Round of 16 of the FIBA World Championship. By the way, Durant was only three years old when Barkley asked, "How did I know he didn't have a spear?"
More of what's happening At This Hour, including how Tiger can lose his grip on the World No. 1 ranking, and where T.J. Houshmandzadeh won't end up, after the jump.
IN THE BANK?
Tiger Woods (T-23) tees off at the Deutsche Bank Championship this morning (11:45 a.m. ET), possibly for the last time as (technically) the best golfer in the world. We've been down this road before, but Steve Stricker is tied for fourth, and Phil Mickelson is tied for sixth out there in Norton, Mass. heading into the final round. Which means that it's time for a refresher course:
HOW MICKELSON BECOMES NO. 1
- Win.
- Finish second, if Tiger finishes outside of the top three.
- Finish third, if Tiger finishes outside of the top four and Stricker does not win. Speaking of which...
HOW STRICKER BECOMES NO. 1
1. Win AND
2. Tiger finishes outside top nine AND
3. Mickelson finishes outside top three.
(It was my understanding there would be no math.)
VIKES NOT INTERESTED IN HOUSHMANDZADEH
The Vikings kick-off the season against the Saints in just three days. And even though they have a need at wide receiver, they don't plan to add T.J. Houshmandzadeh. The former Pro Bowler has been cut loose by Seattle, but the Minnesota coach doesn't think he's a good fit for the Vikings' offense. "I'd probably be more prone to seeing if we can find a younger guy or somebody that's been around in a West Coast offense," he said.