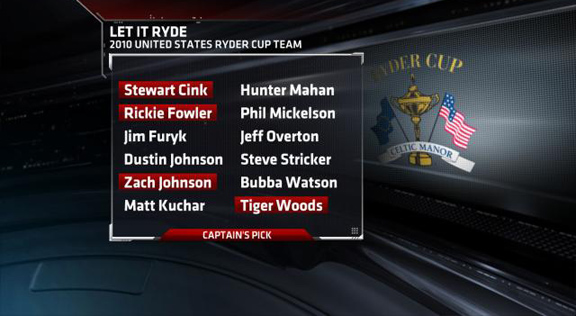 TIGER INCLUDED IN RAVIN'S RYDER CUP PICKS:
Tiger Woods gets the nod, 1 of 4 golfers named to the U.S. Ryder Cup Team as a captain. Corey Pavin made the announcement today, choosing Woods, Stewart Cink, Zach Johnson and Rickie Fowler as the 4 wild card picks - who will join the other 8 Americans when they take on Europe next month in Wales.
BUSH TO BE STRIPPED OF 2005 HEISMAN:
The Heisman Trophy Trust is expected to strip former University of Southern California star running back Reggie Bush of college football's top honor by the end of September, sources told Yahoo! Sports. Bush would become the first player in the 75-year history of the award to have the trophy taken away. The NCAA found major violations in the Trojans' football program in June and levied serious sanctions against the school.
NFL NEWS AND NOTES: RANDY MOSS, TONY RICHARDSON, LeGARRETTE BLOUNT
Randy Moss has expressed his frustration that the Patriots haven't offered him a contract extension yet. Two days after releasing 3-time Pro Bowl fullback Tony Richardson, the Jets re-signed the 15-year NFL veteran. And the Buccaneers have claimed former Oregon running back LeGarrette Blount off waivers, after Tennessee cut the rookie earlier this week.