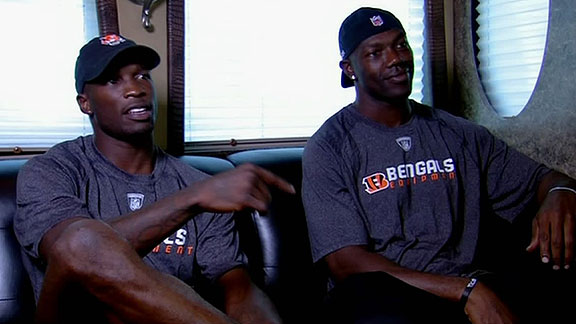 "This dude contributes only one 'T' and I have to put up the full 'Ocho?' Tell me, how is that fair!?!"
It was only a matter of time, we guess. With the Batman and Robin routine in full swing and respective VH1 reality shows in their bedazzled rearview mirrors, Terrell Owens and Chad Ochocinco are set to embark on a new television endeavor. The T.Ocho Show, billed as the first-ever weekly national talk show featuring active NFL players, debuts in its own time slot on Versus on October 12th. Our DVR has officially been set.
But what should we expect? Well, according to Ochocinco, it looks like a gabfest on everything from football, to baseball, to hockey, to soccer, to - ahem - "amateur porn." So when Ochocinco asks, "Do you understand how dangerous this is for us to have a stage like this?," you can begin to get a sense of what he really means.
As for T.O., he envisions the show as an opportunity for "two of the loudest mouths" in the NFL to "talk about issues that aren't talked about in the mainstream media." Ok, so anticipated topics of discussion include, "Why aren't there more shows featuring T.O. and Ochocinco?," "Why isn't there a 3D movie about T.O. and Ochocinco starring T.O. and Ochocinco?," "Why can't Carson Palmer just throw two passes on every play?," and "Whatever happened to ALF?"
Though we can only guess at which direction The T.Ocho Show will take once it hits the airwaves, one thing we do know for sure is that whether it's a hit or a bust, it definitely won't be the last time we hear from its co-hosts. We know we won't be surprised when The T.Ocho Show follows in the footsteps of Glee, So You Think You Can Dance, and American Idol and takes its act on tour.
From what we hear, there's already eight dates scheduled in cities nationwide and some orange and black tiger outfits in the works. And of course, if T.O. and Ochocinco get their way - and it won't be for lack of trying or talking - there will be an encore performance of The T.O. Show on February 6, 2011 in Cowboys Stadium. Now that's a television event we can all look forward to.