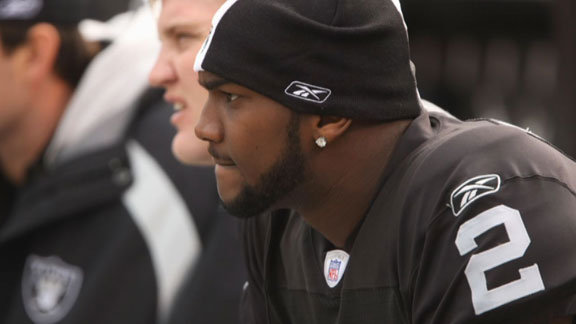 Last year, JaMarcus Russell and the Oakland Raiders led the NFL in ... blackouts.
Your 2010 NFL forecast: Gloomy with an increased chance of blackouts. According to USA Today, at least 11 NFL teams could be facing TV blackouts in their home markets due to poor attendance. The NFL rules dictate games must be blacked out in the home market if they are not sold out 72 hours prior to kickoff.
In 2009, 22 games were blacked out, a five-year high, with the Raiders leading the way with seven of their eight home games not televised in Oakland. Poor attendance figures have been attributed to the struggling economy (face paint and spikes are costly materials!) as well as certain teams' lack of competitiveness, but this year's crop of potential blackouts could also include three teams from last season's playoffs: the Chargers, Cardinals, and Bengals.
With just 16 of your favorite team's games televised the entire season, losing even one is a traumatic experience for any NFL fan. Unfortunately, we can't provide bonus coverage of your team, but we have created a Blackout Survival Kit to assist you through such a devastating experience.
If you're a fan of the Chargers, Cardinals, Bills, Panthers, Lions, Jaguars, Chiefs, Raiders, Rams or Buccaneers and are living in your team's home market, you're at risk of missing action in 2010. Here's what you'll need to get through that Sunday.
Blackout Survival Kit:
(1) Transistor Radio - Believe it or not, your parents probably listened to many NFL classics on the radio. Pretend it's the 1950's and your boob tube is in the shop for repairs.
(4) AA Batteries - For your transistor radio obviously. The average length of an NFL game is three hours and most portable devices function on two batteries. But to be on the safe side, have a backup pair. You don't wanna miss overtime.
(1) Sketch Pad - In case one of the accompanying fans can't understand what happened via radio, you can illustrate the play for he or she. *** Colored pencils will help bring your drawing to life.
(1) Official Team Photo - To remember all the good times you used to have when you were watching them on television.
(1) Tecmo Super Bowl Nintendo - What else do you plan on doing during halftime? May as well recreate the first half of the game.