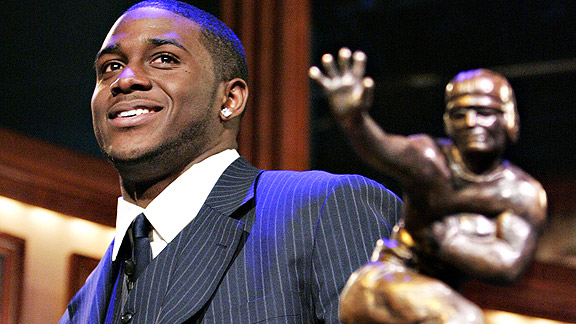 AP Photo/Julie Jacobson
Bush to be Stripped of 2005 Heisman….or Not?
Will Reggie Bush keep his Heisman? Reports said Tuesday that the 2005 Heisman Trophy will be stripped from former USC running back Reggie Bush, and that the award would remain vacant following the decision. The Heisman Trust, however, disputed those reports saying that nothing has been decided yet.
Randy Not Dandy in New England
Randy Moss is entering the final year of his three-year deal with the Patriots and says he's feeling a little unwanted. Moss told CBSSports.com, "It kind of feels like I am not wanted. I am taking that in stride and playing my final year out and whatever the future holds is what it holds, but it is kind of a bad feeling -- feeling not wanted."
Pavin adds Woods to U.S. Ryder Cup Team
The final roster for the USA Ryder cup team is set, and Tiger Woods is on it. Team captain Corey Pavin picked the last four members of the team: Woods, Zach Johnson, Rickie Fowler, and Stewart Cink. They join Phil Mickelson, Jim Furyk, Steve Stricker, Hunter Mahan and cup newcomers Dustin Johnson, Matt Kuchar, Jeff Overton and Bubba Watson who already qualified for the team.
Tom Brady's contract talks escalated quickly Tuesday, and a new deal could be completed this week. The Boston Herald, citing sources close to the negotiations, reported that the Patriots offered their franchise quarterback a three-year, $58 million contract. ESPN NFL Insider Adam Schefter reports that while the deal isn't completed, momentum is building towards that direction.
McNabb Ready to go; Defends Haynesworth
Donovan McNabb says his sprained ankle won't keep him from starting on Sunday against the Dallas Cowboys. He also says the Redskins are a better team with Albert Haynesworth than they are without him. As trade talks surround the disgruntled defensive tackle, McNabb said the Redskins "can't win without him. He plays a major part in our defense and everybody knows that."
Not only did Boise State impress your HD TV with their vibrant uni's, they impressed AP voters as well. The Broncos secured seven-first place votes in the AP football poll. Boise State closed in on No. 1 Alabama and No. 2 Ohio State as the top three teams in the first regular-season poll. TCU, another team from a non-BCS conference, is #4 in the poll.
Venus, Clijsters Advance at U.S. Open
Venus Williams continued her dominance at the U.S. Open, and of her opponent, beating Francesca Schiavone in straight sets Tuesday: 7-6, 6-4. Venus, 8-0 against Schiavone, has not lost a set in the tournament this year as she moves on to the semis. Defending champion Kim Clijsters had a little more trouble advancing against Samantha Stosur. Clijsters needed three sets, 6-4, 5-7, 6-3, to knock out the 5th-seeded Stosur.
NFL Moves Umps Three Yards Closer
The NFL announced Tuesday that the Umpire will be positioned 12 yards behind the line of scrimmage instead of 15. During the preseason the NFL moved the umpire behind the offense rather than the defense. After the change caused two illegal snap penalties against the Colts, the positioning was thought to slow down some of the hurry-up offense teams across the league.