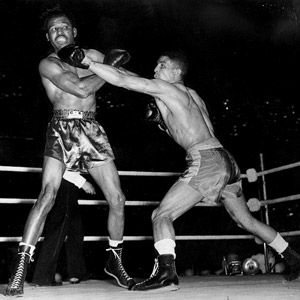 Central Press/Getty Images
"You have won this battle, Randy. But I will win ... the next battle."
September 12, 1951: Sugar Ray Robinson has a gash over his left eye that nearly causes his fight against Britain's Randy Turpin to be stopped, but he powers on and dominates Turpin in the 10th round to regain the middleweight title belt from his rival before 61,370 fans at the Polo Grounds. It is sweet revenge for Robinson, who had been upset by Turpin and lost the belt just two months earlier.
New York's own Robinson, thought to be the best pound-for-pound fighter in boxing history, had been heavily favored in his previous match against Turpin. But the Brit, on his home turf, won the match in a 15-round decision. Robinson requested a rematch, and a rematch he got.
The match at the Polo Grounds two months later set an attendance record. Included among the crowd were various film stars and U.S. Army General Douglas MacArthur. Robinson was winning by a slim margin early in the 10th round when a collision opened the cut above his eye. Robinson, seemingly energized, responded with a right cross to Turpin's jaw, sending him down. Turpin would get up after a count of nine, but Robinson kept on him until referee Ruby Goldstein stopped the fight, much to the delight of the hometown crowd.
For more on Robinson, check out this fun read.