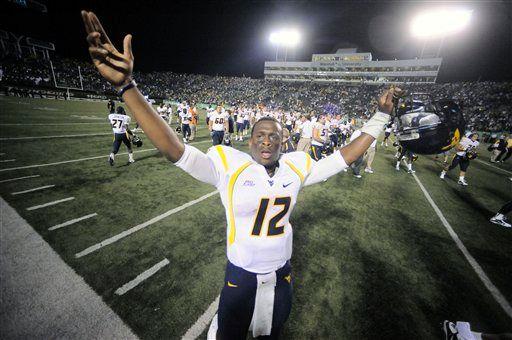 AP Photo/Jeff Gentner
No. 23 WVU Rallies, Escapes Marshall Upset in OT
No. 23 West Virginia still has never lost to Marshall. The Mountaineers rallied from 15 points down in the fourth quarter, forcing overtime, and Tyler Bitancurt's 20-yard field goal gave the team a 24-21 victory over Marshall Friday night.
Belichick: My Goals Are Brady's Goals
The long talked about extension is finally done. Tom Brady will continue to lead the New England Patriots for at least another four years to the tune of $72 million. The three-time Super Bowl champion is guaranteed $48.5 million, a source told ESPN NFL Insider Adam Schefter. Patriots coach Bill Belichick gave Brady a strong vote of confidence saying, "Look, there's no quarterback I'd rather have than Tom Brady".
Bruce Pearl Says He Misled NCAA
Tennessee men's basketball coach Bruce Pearl says he's sorry for misleading the NCAA. "I've made some serious mistakes, and for that I'm truly sorry," said Pearl on Friday. Pearl acknowledged providing the NCAA with misleading and incorrect information during a 17-month investigation into possible recruiting violations.
Vera Zvonareva, Kim Clijsters in Final
Vera Zvonareva made headlines Friday, ousting top-seeded Caroline Wozniacki 6-4, 6-3 at the US Open. It's the seventh-seed Zvonareva's second straight Grand Slam final appearance. She'll play defending champion Kim Clijsters, who defeated Venus Williams 4-6, 7-6 (2), 6-4 in the other semifinal Friday, for the title. Clijsters extended her US Open winning streak to 20 matches with Friday's victory.
Floyd Mayweather Released From Jail
Floyd Mayweather Jr. was jailed briefly Friday on a felony charge after his ex-girlfriend alleged he beat her and stole her cell phone during an argument in front of their three children. The 33-year-old Mayweather was released later on $3,000 bail after being booked on a grand larceny charge. He could face up to five years in state prison if he is convicted of taking items valued under $2,500.
Report: Percy Harvin Not Using Medicine
Percy Harvin's migraine problems may soon be over, according to a report by NBCSports.com. Harvin said doctors have diagnosed and treated him for sleep apnea. According to Harvin, doctors believe the sleep condition was responsible for the headaches that caused him to lose consciousness and leave an August practice by ambulance.
Mets' Johan Santana to Have Surgery
Johan Santana knows why his left shoulder hurts. The Mets pitcher has suffered a tear of the anterior capsule of the left shoulder and will have season-ending surgery in the near future, the team announced Friday. The 31-year-old left-hander is uncertain if he'll be ready to pitch by Opening Day, 2011.
Pat Riley Tells Heat's Critics to 'Get a Life'
Pat Riley has had enough. The Miami Heat president says critics of his free-agent class of Dwyane Wade, LeBron James and Chris Bosh need to 'get a life'. "I know one thing," Riley said. "We will show up and we will play games. And our team will be ready. And I think that's the way we can answer all the critics."
Carl Edwards Wins 2nd Pole of Season
Carl Edwards will start from the pole position in the final race of NASCAR's "regular season" Saturday night at Richmond International Raceway (7:30 PM ET, ABC). The Roush-Fenway Racing driver turned a fast lap at 127.762 mph in qualifying Friday night, edging Juan Pablo Montoya, whose lap came in at 127.455 mph.
Saints-Vikings Gesture Felt League-Wide
U-N-I-T-Y. The New Orleans Saints and Minnesota Vikings joined forces before Thursday night's game to show they're united as players as the bargaining process with owners moves forward. The NFL faces a possible lockout for the 2011 season if the owners and players can't reach a compromise on a new collective bargaining agreement.
The Associated Press contributed to this report.