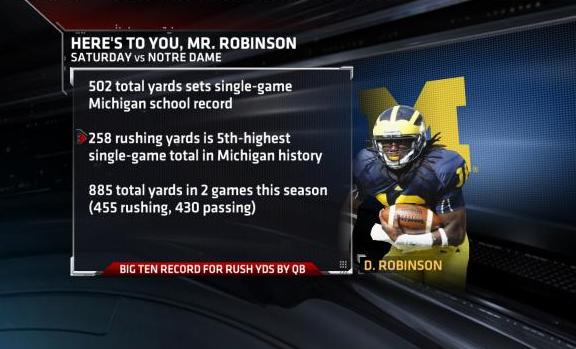 Michigan's Denard Robinson Caps Stellar Performance With Winning TD
Michigan QB Denard Robinson made a strong case for the Heisman Saturday against Notre Dame. Robinson gained a QB school-record 502 yards of total offense, including 258 yards rushing on 28 carries and 244 more passing. He scored the game-winning TD with 27 seconds remaining to defeat the Irish 28-24.
Ohio St. Picks Off Jacory Harris 4 times; Terrelle Pryor Scores 2 TDs
"The" Ohio State made a statement Saturday against "The U". Terrelle Pryor ran for 113 yards and a touchdown and passed for another score as the Buckeyes defeated the Hurricanes 36-24.
The James Madison Dukes (FCS-Div.I-AA) are stealing the CFB headlines after upsetting No.13 Virginia Tech Saturday. JMU's Drew Dudzikran ran for two touchdowns and threw for another during the Dukes' 21-16 victory over the Hokies.
Rafael Nadal in First US Open Final
Top-seeded Rafael Nadal will play for his first US Open final Sunday. "Rafa" wasted no time advancing to the final, defeating No. 12 Mikhail Youzhny 6-2, 6-3, 6-4 Saturday. Nadal will face three-seed Novack Djokovic, who stunned two-seed Roger Federer in a five-set thriller Saturday.
Vernon Davis Signs 5-Year Extension
Vernon Davis is now the highest-paid tight end in NFL history. Sources told ESPN NFL Insider Adam Schefter that Davis signed a new five-year extension with the San Francisco 49ers on Saturday. The deal is worth $37 million with $23 million guaranteed.
Source: Albert Haynesworth Will Play
A team source said Redskins coach Mike Shanahan has decided Albert Haynesworth will play in the season opener against the Dallas Cowboys on Sunday night. The defensive tackle has been informed that he will play primarily on passing downs, rushing from an inside position.
Clijsters Wins 2nd Straight US Open Title
Kim Clijsters won the Women's US Open title in quick fashion Saturday. The second-seeded Clijsters won a second straight US Open championship and third overall, easily beating seventh-seed Vera Zvonareva 6-2, 6-1. The match lasted 59 minutes.
Kevin Durant Surpasses Carmelo Anthony's Single-Game Mark, Fuels Semifinal Win
Kevin Durant scored a U.S.-record 38 points to lift his team over Lithuania 89-74 on Saturday. Team USA faces Turkey for the gold medal Sunday at 2:30 PM ET on ESPN.
Penn State's Volleyball Win Streak Snapped at 109
The Penn State women's volleyball was shocked on Saturday. The team's record match winning streak ended at 109 with a 28-26, 25-12, 25-18 loss to Stanford in a tournament at Florida. The win streak was the second-longest in Division I team sports, behind the 137 straight wins by the Miami men's tennis program from 1957-1964.
Denny Hamlin Ends Winless Stretch
Denny Hamlin earned the top spot in NASCAR's Chase for the Sprint Cup championship Saturday. Hamlin, who finished in last-place last week at Atlanta, grabbed his second career victory at Richmond International Raceway. Clint Bowyer and Greg Biffle clinched the final two spots in the 12-driver playoff field. The Chase starts next week at New Hampshire.
The Associated Press contributed to this report.