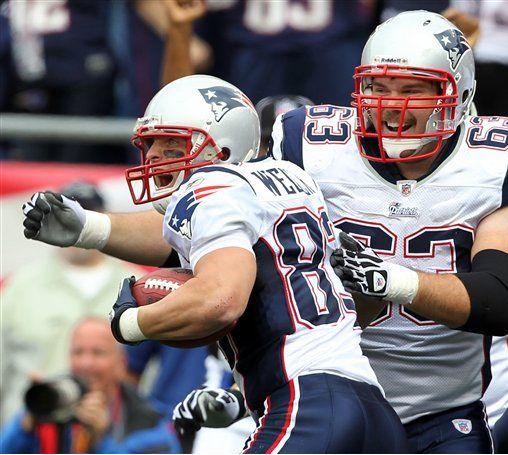 AP Photo/Stephan Savoia
Tom Brady Throws 2 TDs to Wes Welker as Patriots Cruise
Wes Welker's return to regular-season action resulted in a win Sunday. Welker caught two of the three TDs thrown by Tom Brady during the team's 38-24 win against the new-look Bengals. Chad Ochocinco had 12 receptions for 159 yards and 1 TD. Terrell Owens caught 7 balls for 53 yards in defeat.
Mike Shanahan, Donovan McNabb Debut as Redskins Capitalize on Cowboys' Mistakes
The Mike Shanahan and Donovan McNabb era in Washington began victoriously. The Redskins defeated the Cowboys 13-7 Sunday night. Washington avoided a loss thanks to crucial Dallas penalties, including an offensive-holding call that ended the game. McNabb completed 15 of 32 passes for 171 yards for the Redskins. Dallas QB Tony Romo was 31 for 41 for 282 yards and 1 TD in the loss.
Kevin Durant Scores 28 as USA Beats Turkey in Gold-Medal Game
Kevin Durant was brilliant again, helping Team USA win gold on Sunday. The United States won its first World Championship since 1994, beating Turkey 81-64. Durant scored 28 points and was named Tournament MVP.
Michael Vick Not Enough as Aaron Rodgers Lifts Packers Past Eagles
Kevin Kolb's starting debut with the Philadelphia Eagles was rough. Kolb left the game at halftime with a concussion and didn't return. Aaron Rodgers threw a pair of touchdown passes during Sunday's 27-20 win against the banged-up Eagles. In place of Kolb, Michael Vick threw for 175 yards and 1 TD, and rushed for 103 more yards in defeat.
Tiger Woods Out of FedEx Cup Finale
Tiger Woods failed to qualify for the Tour Championship Sunday. Woods shot a 1-under 70 and finished tied for 15th at the BMW Championship. Dustin Johnson (-9) closed with a 2-under 69 to win at Cog Hill and moved to No. 2 in the FedEx Cup standings.
Boise State Loses Ground in Top 25
The AP Top 25 poll released Sunday has a new number five. Alabama and Ohio State remain No. 1 and No. 2 respectively and Boise State stays at No. 3 but lost all but one first-place vote because of Virginia Tech's second straight loss. TCU remained fourth and Oregon jumped two spots, replacing the Texas Longhorns at No. 5.
Matthew Stafford Injured in Opener
The Detroit Lions lost their starting QB and the game against Chicago Sunday. Julius Peppers forced Lions' QB Matthew Stafford (right shoulder) out of the game following a sack late in the second quarter. The Lions did have a chance to win late, but Calvin Johnson's apparent TD catch was ruled an incompletion. Bears win 19-14.
Arian Foster Runs For 231 Yards, 3 TDs as Texans Fend Off Colts
Arian Foster's legs helped the Texans defeat the Colts in Sunday's AFC-South battle. Foster's team-record 231 yards and 3 TDs lead the Texans to a 34-24 victory. Colts' QB Peyton Manning completed 40 of 57 passes for 433 yards, the fourth-highest opening weekend total since 1933, and 3 TDs in defeat.
Tennis fans will have to wait. The US Open final between top-seed Rafael Nadal and three-seed Novak Djokovic was postponed one day because of persistent rain Sunday. The final is scheduled for 4:00 PM EST Monday, when the forecast calls for a 20 percent chance of thunderstorms.
Sue Bird Hits Winner With 2.6 Seconds Left as Storm Take Game 1 of WNBA Finals
Sue Bird is clutch. Bird's tiebreaking jumper from the foul line with 2.6 seconds gave the Storm a 79-77 win over the Dream in Game 1 of the WNBA Finals on Sunday. The best-of-five series continues Tuesday night in Seattle.
The Associated Press contributed to this report.