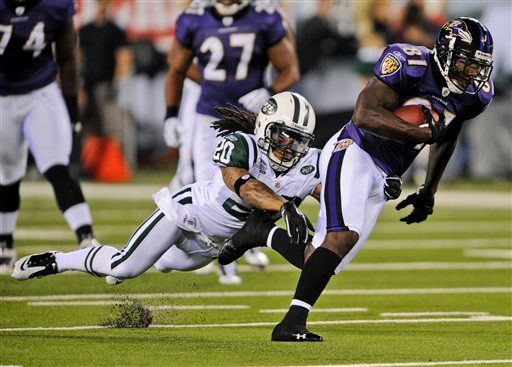 AP Photo/Henny Ray Abrams
Ravens Ground Out Victory Over Jets
The much-anticipated Jets' season debut ended with a loss Monday night. The Ravens held the Jets to just 176 total yards, six first downs, and kept QB Mark Sanchez and company out of the end zone during the 10-9 victory. Anquan Boldin had 7 receptions for 110 yards in his Ravens debut. LaDainian Tomlinson had 78 total yards in his Jets debut.
Chiefs Defeat San Diego in Kansas City, 21-14
The Kansas City Chiefs didn't let rain, or a late Chargers' rally, spoil their 2010 season opener. Chiefs RB Jamaal Charles scored on a 56-yard TD run and rookie teammate Dexter McCluster returned a punt 94 yards (team record), in the team's 21-14 win against San Diego. Chargers QB Phillip Rivers went 22 of 39 for 298 yards and 2 TDs in defeat.
Reid Brignac's 11th-inning, Walk-Off Blast Vaults Rays Into First Place in AL East
A rookie stole the show for the Rays Monday night. Rookie 2B Reid Brignac's walk-off home run ended the 11-inning battle against the Yankees, giving the Rays the 1-0 win. The victory gives the Rays sole possession of first place in the AL East. CC Sabathia and David Price, both AL Cy Young candidates, lasted 8 innings before earning no-decisions.
Rafael Nadal Completes Career Slam
Rafael Nadal beat Novak Djokovic 6-4, 5-7, 6-4, 6-2 to win his first US Open title and earn the career Grand Slam on Monday. "Rafa" becomes just the seventh man in tennis history to win all 4 major titles in his career. It's Nadal's 3rd consecutive major championship and 9th overall.
Kevin Kolb (Concussion) Not Ruled Out
The Eagles will wait and see. Quarterback Kevin Kolb and linebacker Stewart Bradley have not been ruled out for Philadelphia's game at Detroit next Sunday, despite suffering concussions in the season opener against Green Bay. Eagles coach Andy Reid says both players must pass a specific evaluation process before they are cleared to play and that neither will practice before Friday.
Sources: Lions' Stafford Has Shoulder Separation
The news could be worse for Matthew Stafford. The Lions' QB suffered a second-degree separation to his right (throwing) shoulder Sunday. This according to a league source, who told ESPN NFL Insider Adam Schefter that Stafford is planning to visit Dr. James Andrews as early as this week to determine how much time he will miss.
Tom Brady Details Accident, Aftermath
Despite not being injured in a recent two-car crash, Tom Brady admitted that he was "scared out of my mind." Speaking for the first time about last Thursday's accident, Brady told WEEI in Boston, "I'm telling you, when it happened, I didn't even know what to do, because you're just in shock...I was kind of sitting there in the car, looking around, trying to get my bearings."
Mark Ingram (Knee Injury) Practices
The Duke Blue Devils may have to deal with RB Mark Ingram when they play Alabama Saturday. The Heisman Trophy winner practiced Monday wearing a brace on his left knee. He had arthroscopic surgery on the knee five days before the Tide's season opener against San Jose State.
Allen Iverson Talking to China Team
Is "The Answer" heading to China? Allen Iverson's personal manager Gary Moore says there is "legitimate interest" between his client and a team in China to work out a deal. Moore admitted that Iverson has not been contacted by any NBA team and that a move overseas could be a likely possibility.
Devils Penalized For Kovalchuck Deal
Ilya Kovalchuk cost the New Jersey Devils more than his recently-signed 17-year, $102 million contract in July. The NHL fined the Devils $3 million on Monday and took away two high draft picks, saying the deal circumvented the league's salary cap.
The Associated Press contributed to this report.