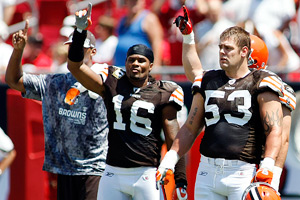 PRE-GAME UNION GESTURE ANNOYS FANS:
The thought of a possible NFL lockout next season is scary. At least we will have college football to fall back on. Fans made it clear in Houston they are not happy with the players pre-game show of solidarity. The Minneapolis Star Tribune reports, three days after Vikings and Saints players showed support for the NFL Players Association by walking onto the field before kickoff and hoisting an index finger in the air, several teams followed suit Sunday. The move wasn't received well everywhere. In Houston, fans booed the players as they attempted to show they were unified in their union's efforts to negotiate a new collective bargaining agreement with the NFL. The CBA is set to expire in March and if no new agreement is reached by then, a lockout is expected to follow.
MORE: Wojciechowski: NFL players should bag silly pregame solidarity gesture | Players make NFLPA solidarity gesture
LeBRON NOW SIXTH MOST-DISLIKED FIGURE IN US PRO SPORTS IN "THE Q" POLL:
CNBC reports that LeBron's "Q Score" has him rated among the public as the sixth-most-disliked figure in U.S. professional sports. According to the CNBC report, The Q Scores Company, which conducts such popularity polls, has James currently viewed in a negative light by 39 percent of the general population. That figure places James sixth among disliked sports personalities, according to the company's polling, behind only Philadelphia Eagles quarterback Michael Vick, PGA Tour star Tiger Woods, Cincinnati Bengals wide receivers Terrell Owens and Chad Ochocinco, and Los Angeles Lakers guard Kobe Bryant.
TRESSEL HAS MICHIGAN ON HIS BALLOT:
From The Detroit News, Ohio State coach Jim Tressel is a Michigan fan. For now. Tressel, who has a vote in the USA Today coaches' poll, said he included Michigan in his last two rankings. Michigan, sparked by sophomore quarterback Denard Robinson, is 2-0 after winning 28-24 at Notre Dame last week. The Wolverines returned to the national rankings at No. 20 (AP) and No. 22 (coaches).