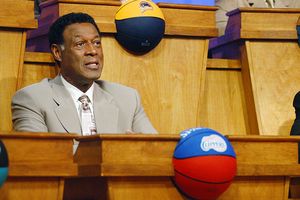 "Ummmm, can someone help me? There's a basketball stuck in my desk."
September 16, 1934: On this date, one of the NBA's greatest players was born in Washington, D.C. When he was born, his father, John, looked at his gold pocket watch to see what time it was, then named his son after the maker of the watch - Elgin. Yup, welcome to the world, Elgin Gay Baylor!
Many agree that if Baylor had been born a generation later, he would have risen to Michael Jordan and LeBron James levels of popularity (and perhaps been named "Casio"). But Baylor, a forward for the Lakers from 1958-71, played before the days of widespread television exposure. Still, those who saw him play say there was no one like him. "He was one of the most spectacular shooters the game has ever known," said his longtime teammate, Jerry West. "I hear people talking about forwards today and I haven't seen many that can compare with him."
Baylor, known for his shooting touch, tenacity on the boards, skilled passing, and acrobatic style of play, was the No. 1 draft pick in 1958 after playing at Seattle University and leading the Chieftains to the 1958 NCAA Championship game, which they lost to Kentucky. Baylor actually accepted a football scholarship to College of Idaho but played basketball there instead and averaged 31.3 points over one season before transferring to Seattle. Baylor went on to win the NBA Rookie of the Year in 1959, then garnered 11 All-Star nods in his 14-year career.
He led the Lakers to the NBA Finals eight times, and in 1962-63 he became the first NBA player to finish in the top five in four different statistical categories (scoring, rebounding, assists, and free-throw percentage). Baylor, who also spent 22 years as GM of the Los Angeles Clippers and was named NBA Executive of the Year in 2006, was inducted into the Basketball Hall of Fame in 1977.