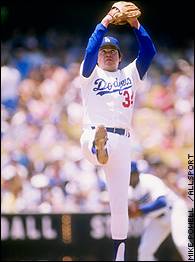 Mike Powell/Allsport
If you like me, you'll love my bobblehead.
September 17, 1981: Fernandomania — the phenomenon referring to the stretch of time where Dodgers fans, and most of Southern California for that matter, were caught up in the awesomeness that was rookie pitching sensation Fernando Valenzuela — reached unprecedented heights on this day when Valenzuela threw his eighth shutout of the season. The shutout win, a 2-0 victory over Atlanta, set a new National League rookie record.
The achievement capped a remarkable season for Valenzuela, or, "El Toro," as he was called. In his first eight games, Valenzuela threw seven complete game victories and had his first five shutouts of the season. Over that span, he allowed only four runs (in 72 innings) and had an ERA of 0.50. Over the whole season, he went 13-7 with a 2.48 ERA and a league-leading 180 strikeouts. He won the Rookie of the Year Award and the Cy Young Award, becoming the only player in baseball to win both awards in the same year.
In the '81 postseason, Valenzuela went on to win three times, including a complete game victory in Game 3 to help the Dodgers to their first World Series title since 1965. He was a dominant pitcher with the Dodgers through the '80s, then he signed as a free agent with the Angels in 1991. Valenzuela went on to pitch for the Orioles, Phillies, Padres, and Cardinals before retiring.