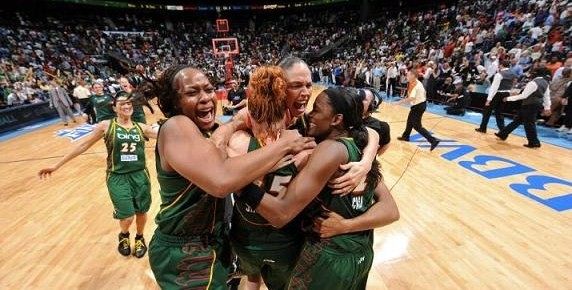 Jesse D. Garrabrant/NBAE/Getty Images
The Seattle Storm beat the Atlanta Dream 87-84 Thursday night for a three-game sweep in the WNBA finals.
Mayweather Faces 8 Charges, 4 Of Them Felonies
Eight charges -- including two felony counts of coercion for threatening his children -- have been filed in Nevada against Floyd Mayweather Jr. stemming from a domestic violence incident last week with his ex-girlfriend. Mayweather also has been charged with a felony count of robbery and one of grand larceny, in addition to four misdemeanors -- one for battery domestic violence and three for harassment, according to reports in the Las Vegas Review-Journal and the Las Vegas Sun. According to a police arrest report made public Monday, Mayweather threatened to kill 30-year-old Josie Harris and her new boyfriend during an argument early Sept. 9.
Suspension Reduced If Jackson Dealt
San Diego Chargers wide receiver Vincent Jackson will be eligible to play in Week 5 if he's traded under the terms of a settlement between the NFL and the players union. The NFL and the NFL Players Association settled the case in talks on Thursday, the same day Jackson was to appeal for his suspension to be halved to three games. It provides for Jackson to sit out a total of four weeks -- all of his league-mandated three-game suspension and one additional week with his new team. He was due to sit out six weeks as a result of the Chargers placing him on the exempt roster list.
Source: Eagles Plan To Start Vick At QB Sunday
The Philadelphia Eagles plan to start Michael Vick at quarterback on Sunday against the Detroit Lions, a team source told ESPN NFL Insider Adam Schefter. It would be Vick's first NFL start since Dec. 31, 2006 when he was a member of the Atlanta Falcons. Vick replaced quarterback Kevin Kolb in Week 1 when the Eagles' starting quarterback was knocked out of the game with a concussion.
Bush: Heisman Forfeiture Not Admission Of Guilt
Reggie Bush said Thursday that his decision to relinquish his Heisman Trophy should not be seen as an admission that he and his family improperly accepted cash and gifts from sports agents while he played for USC. "It's definitely not an admission of guilt. It's me showing respect to the Heisman Trophy itself and to the people who came before me and the people coming after," Bush said after practice with the New Orleans Saints.
Cleveland Browns quarterback Jake Delhomme is not practicing again because of an injured right ankle. Cleveland coach Eric Mangini said Delhomme has made progress with his ankle, which he hurt while throwing an interception in the closing minutes of the first half in Sunday's season-opening loss at Tampa Bay. Delhomme has been wearing a walking boot to stabilize his ankle. If Delhomme is sidelined, backup Seneca Wallace will make his 15th career start.
Cubs' Carlos Zambrano Says This Is His Last Contract
Carlos Zambrano said after winning his ninth game of the season Wednesday that he will retire when his contract ends after the 2012 season. "I told you the other day, this will be my last contract," Zambrano said. "This will be my last contract. I won't be playing anymore. I don't want to play anymore. Life is short. Sometimes you miss things with your family, like very important people, like my daughter. Sometimes you miss things in life because of baseball that you shouldn't miss. I want to be there any moment for my daughter and my family. Baseball takes a lot of time away from us."
Rockets To Limit Yao To 24 Minutes Per Game
24 is the number the Rockets will get to know well this year. That's how many minutes Yao Ming will be limited to per game. The Rockets say that the 35 to 40 minutes Yao averaged two years ago led to a buildup of stress on his foot which he injured in the playoffs.
Blackhawks Give Quenneville Extension
The Chicago Blackhawks have given coach Joel Quenneville a three-year contract extension. The contract runs through the 2013-14 season. Financial terms were not disclosed. Last season, Quenneville led the team to its first Stanley Cup championship since 1961 and became just the 14th coach to win 500 games. He coached in St. Louis and Colorado before taking the job in Chicago when Denis Savard was fired four games into the 2008-09 season.
The Associated Press contributed to this report.