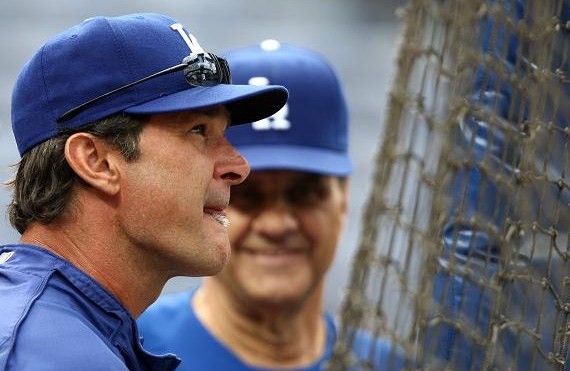 Mike Zarrilli/Getty Images
New Chapter In Dodgers' Saga: Torre Departs, Mattingly Takes Helm
Joe Torre said Friday he will retire at the end of the season, although the 70-year-old skipper couldn't say with certainty that he'll never manage again. The Dodgers immediately announced hitting coach Don Mattingly will replace him in 2011.
Browns' Delhomme Out Of Third Straight Practice
The Cleveland Browns have started 14 different quarterbacks since 1999. By contrast, the Indianapolis Colts have had 1: Peyton Manning. It's no wonder the Browns can't win. Cleveland's head-spinning total may soon be 15. Jake Delhomme did not practice for the third straight day because of an ankle injury, increasing the likelihood that backup Seneca Wallace will start Cleveland's home opener against Kansas City.
Ravens: Kindle's Chances Of Playing Are 'Slim'
Ravens rookie Sergio Kindle is not expected to play football this season after fracturing his skull in the summer, coach John Harbaugh said Friday. Kindle, a linebacker from the University of Texas, fell down two flights of stairs in July. There was recent optimism that Kindle could return later this season, but neurological tests were not promising enough, so the Ravens will be cautious about Kindle making a return to football.
It's costing more to watch the NFL in person this season, especially for fans of the Giants and Jets. The Team Marketing Report said that average ticket prices for NFL games increased 4.5 percent this year to $76.47. The New York teams had the steepest increases after moving into the New Meadowlands Stadium in East Rutherford, N.J. Jets tickets went up 31.8 percent to $114.64 on average, and the Giants rose 26 percent to $111.69. New England's prices stayed flat, but it still had the highest average cost - $117.84. Dallas is fourth at $110.20, also with no increase. Cleveland has the lowest average ticket price at $54.51, a drop of 0.3 percent.
Yanks GM Cashman Cautious On Pettitte
When Andy Pettitte walks to the top of the Camden Yards mound Sunday, it will have been exactly nine weeks since he last pitched a big-league game. "I don't think you should expect the old Andy Pettitte just yet," Yankees GM Brian Cashman told the NY Daily News. He continued, "It's another step in the ladder but I think it's a necessary one as we prepare to move forward. He's someone we've missed, but I think [Ivan] Nova and [Dustin] Moseley have done a tremendous job in his absence to try to fill in and allow him the time to heal without us missing much of a beat. I think Nova and Moseley did a great job, but it's time to try to get healthy."
Ed Reed Eager To Come Off PUP List
One week into his six-week stay on the PUP list, Ravens' safety Ed Reed is getting antsy. Reed said that he called the NFLPA last week in an attempt to reduce his mandatory six-week inactive stint. "I thought I could have got it reduced," said Reed, who is recovering from offseason hip surgery and won't be allowed to play before the Oct. 24 game against the Bills. "Maybe I should have called [commissioner Roger] Goodell. It's all in the game. You've got to abide by the rules and all I can do is take advantage of this time, and I know these guys are going to do their jobs."
Bears DE Julius Peppers Fined $5K For Hit On Matthew Stafford
The NFL fined Bears defensive end Julius Peppers $5,000 for roughing up Matthew Stafford last Sunday in a 19-14 victory over the Lions. Peppers accidentally went to Stafford's head as he followed through with his motion during a first-quarter rush. "I'm not going to appeal that,'' Peppers said. "My hand got high. I'd do the same thing again. I'm coming around his body to swipe the ball, and my hand hit his head.''
Jerry Jones Still Sold on Phillips/Garrett Team
Cowboys owner Jerry Jones says he still believes in the combination of Wade Phillips as head coach and Jason Garrett as offensive coordinator. Jones emphasized that Dallas winning two division titles in three years under those coaches trumps them having flubbed a critical play in the season-opening loss at Washington.
The Associated Press contributed to this report.