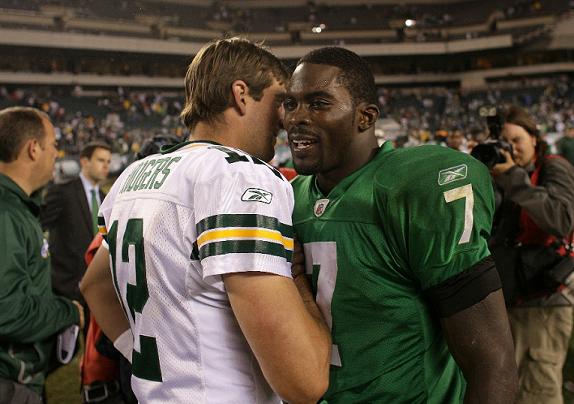 Mike Ehrmann/Getty Images
"If things don't get better, I'll let you borrow my Daniel Powter CD."
When Michael Vick takes the field with the Eagles tomorrow afternoon in Detroit, it will be his first appearance as a starting quarterback since Week 17 of the 2006 season. Back then, on the last day of the year, Vick led his former team, the Atlanta Falcons, against none other than his current team, the Philadelphia Eagles. Vick left in the third quarter of that game with an ankle injury - not knowing then that it would be his last appearance with the Falcons.
Now, almost four years later, Vick is dropping the clipboard to fill in for an injured Kevin Kolb and hoping to pay the Eagles back for taking a chance on him in his time of need. What has changed since December 31, 2006 besides where Vick calls home? Well, Matt Schaub is no longer Vick's backup (as he was in Atlanta) and Hank Baskett - who led all receivers back on December 31, 2006 with 177 yards and 1 TD - is known more today as a reality tv star than a football player.
And those aren't all of the changes we've seen since then. Consider, for example, that the Eagles don't have a single quarterback from their 2006 roster. Donovan McNabb is in Washington, Jeff Garcia is in Omaha (with the Nighthawks of the UFL), and A.J. Feeley is in St. Louis (after stints in Miami, San Diego, Philly again, and Carolina).
Off the field as well, the changes have been just as dramatic. The number one movie during Week 17 of the 2006 NFL season? That would be "Dreamgirls." For those that don't remember, this was supposed to be Eddie Murphy's big comeback movie - but it never really did the trick.
In fact, if you think about it now, Hank Baskett may actually be having a more successful entertainment career than Eddie Murphy - something you probably wouldn't have anticipated back in '06. You know, like trying to predict that Vick would end up out of the league and then back again - this time in an Eagles jersey. And it's probably fair to say that we'll all find out tomorrow if Vick can regain his form as a starting QB in the NFL - or if this game in Detroit is his equivalent to Eddie Murphy's "Norbit."