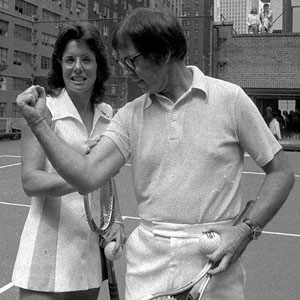 AP Photo
"Yes, Bobby. I can feel that, for sure. That's 100 percent defeat right there."
September 20, 1973: In a pivotal era for women's sports, Billie Jean King dismantled Bobby Riggs in perhaps the most famous exhibition match in tennis history. Title IX had been in effect for little more than a year, granting female athletes the same collegiate opportunities as their male peers. Meanwhile, King had just spearheaded the formation of the Women's Tennis Association. Self-avowed tennis hustler Riggs saw an opportunity ripe for spectacle, the perfect way to promote the game (with a little side benefit for himself in the process). King had reason to be wary; Riggs had defeated Margaret Court, then the top-ranked women's player in the world, on Mother's Day that year. And even though Bobby was 55 years old, he had a remarkable championship history, winning the Wimbledon triple crown (singles, doubles, mixed doubles) in 1939.
Riggs played up his role as male chauvinist villain to the hilt. He entered the Houston Astrodome (then advertised as "The Eighth Wonder of The World") on a gold-wheeled rickshaw powered by "Bobby's Bosom Buddies" – six models dressed in skimpy outfits. Meanwhile, King was brought to court on a gold little borne by four large Rice University track-and-field athletes. A crowd of 30,472 were on hand to watch, the largest ever to witness a tennis match, with more than 50 million TV viewers tuning in as Howard Cosell called the action.
Bobby hadn't trained since his duel with Margaret Court, and clearly had trouble chasing down his 30-year-old opponent's cross-court finesse shots. Billie Jean took down her opponent with relative ease in three sets: 6-4, 6-3, 6-3. "I made a mistake,'' Riggs said. "When you underestimate your opponent, you're in trouble right away. She played a great match. Her tactics were good. Mine were wrong. I underestimated her.''
King took the $100,000 prize, but more importantly, the glory."It changed the way people looked at men and women,'' she said. "We made a difference, and it was about social change.''