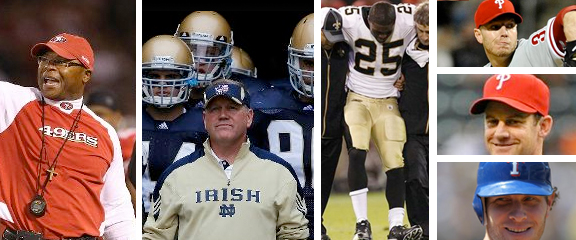 Afternoon Buzz: Lunch Time Hot-Links - several people and sporting events are lighting up the Internet right now. We've culled through all the noise and have selected some stuff you might want to check out:
NFL
Mike Sando writes, the 49ers' loss to the Saints showed that they were well-led, not necessarily well-coached.
Mike Sando: Singletary's Sledgehammer Ways
For the latest on Reggie Bush's injury and what it means for the Saints offense, check out the Pat Yasinskas NFC South blog.
Pat Yasinskas: What Bush's injury means for Saints
MLB
With a loss to the Phillies last night, the Braves find themselves having to do something no team has done: Beat Roy Halladay and Roy Oswalt back to back. Jayson Stark breaks down the matchups.
Jayson Stark: Phillies Armed For NL East Takeover
Richard Durrett shares all the latest news on Josh Hamilton's visit to a back specialist.
ESPNDallas.com, Richard Durrett: Hamilton Sees Specialist
COLLEGE FOOTBALL
College football guru Mark Schlabach examines both the good news and bad news facing Georgia, Notre Dame, and Virginia Tech.
Mark Schlabach: College Football Powers Push Panic Button
NBA
Now on ESPN.com, check out our "Franchise Five" -- an NBA application that pits all-time teams against each other in tournament-bracket style. Could Rodman and Grant Hill ever challenge Bird and McHale? Jordan and Pippen take on Shaq and Penny? Log on now to cast your vote!
Franchise Five: NBA All-Time Greatest Teams Bracket
HOCKEY
Are you ready for fantasy hockey? Check out our 2010 Draft Kit.
Fantasy Hockey Draft Kit Launch
NASCAR
David Newton writes, Jimmie Johnson's hunt for another Cup title hit a speed bump, but don't count him out.