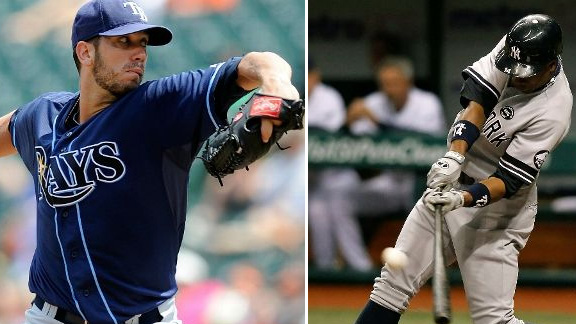 Getty Images/Getty Images
Tampa Bay Rays (89-60) at New York Yankees (91-59)
7:05 PM ET -- Yankee Stadium, New York, NY
Starting Pitchers
Tampa Bay: James Shields (13-12, 4.86 ERA)
New York: Phil Hughes (16-8, 4.31 ERA)
The Yankees try to stretch their current AL East lead (1.5 games) tonight against the Rays. Curtis Granderson was last night's hero with 2 HRs, and he tied his career high with five RBIs during New York's 8-6 win. Tonight could be a different story as Granderson has struggled against Rays pitcher James Shields. Granderson was 0 for 3 with two strikeouts against Shields last week and is 2 for 29 lifetime against him. With a victory tonight, Shields will tie his career high for wins in a single season (14), done once in 2008. Also tonight, Derek Jeter will try to break his current tie with Mickey Mantle for the most runs scored in Yankees' history.
Most Runs Scored in Yankees History
Babe Ruth..............1,959
Lou Gehrig..............1,888
Derek Jeter.............1,677>>
Mickey Mantle.........1,677
>>2 runs scored Monday
Game Preview: TB vs NYY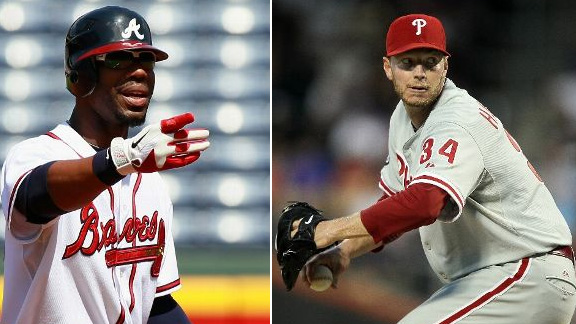 Getty Images/Getty Images
Atlanta Braves (86-65) at Philadelphia Phillies (90-61)
7:05 PM ET -- Citizens Bank Park, Philadelphia, Pennsylvania
Starting Pitchers
Atlanta: Mike Minor (3-1, 5.84 ERA)
Philadelphia: Roy Halladay (19-10, 2.49 ERA)
Roy Halladay looks to become the NL's first 20-game winner tonight against the Braves. Halladay brings a 2.49 ERA and 210 strikeouts to the mound. He'll face Jason Heyward, who was 1-for-3 with a walk during last night's loss and has now reached base safely (by hit, walk or HBP) in each of his last 25 games. That's the longest streak for a Braves rookie in 62 years - since Alvin Dark reached safely in 33 consecutive games for the 1948 Boston Braves. Atlanta trails Philadelphia by 4 games in the NL East. Braves skipper Bobby Cox is one win shy of 2,500 career victories.
Managers with 2,500+ wins
Connie Mack.......(3,731)
John McGraw......(2,763)
Tony La Russa....(2,629)
Game Preview: ATL vs PHI
Note: The Elias Sports Bureau and ESPN Stats and Information group contributed to this report.