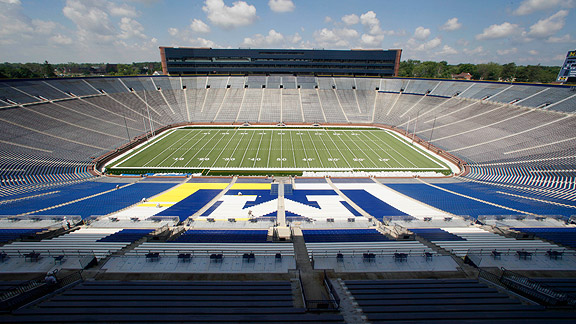 AP Photo/Paul Sancya
Luckily, Michigan Stadium is only empty on off-days
Ever go to a sporting event or watch one on TV and notice more empty seats than fans? Makes you feel kind of bad for the team, right? Put away your pity, sports fans, because a simple, albeit brilliant, solution is readily available for teams that can't quit pack the arena: cover the empty seats with advertising and "virtual fans". And don't call it a cop-out -- it's been here for years.
Major League Baseball's Florida Marlins and Oakland A's have used tarps to cover empty seats for some time now. However, those tarps were there for aesthetics and to soften the blow of lackluster fan support. Sunrise Sports & Entertainment, who own the NHL's Florida Panthers, have made the tarp idea profitable by selling 16 of its home BackAtlantic Center's 22 upper bowl (nosebleed) sections to Party City. In turn, Party City will cover the section's seats with seasonally themed advertising tarps. Therefore, it only takes 10,000 fans to sell the place out as opposed to 17,040 AND an outside company foots the bill for the empty seats! Not bad, right?
Hold onto your empty seat -- it gets better.
Triestina, a professional soccer team from Italy, has found a way to not just cover seats but the seasonal $130,000 in operating costs (stewards, security, insurance, medical staff etc) their home Stadio Nereo Rocco incurs as well. The best part is that they do all of this while making it look like a respectable crowd is in attendance, simply by printing 10,000 "virtual fans" on the section covers. Although it looks better on TV than in person, it certainly beats the sight of empty seats. If nothing else, it will look very familiar to anyone who has played a sports video game.
Saving money? Awesome. Saving face? Priceless.