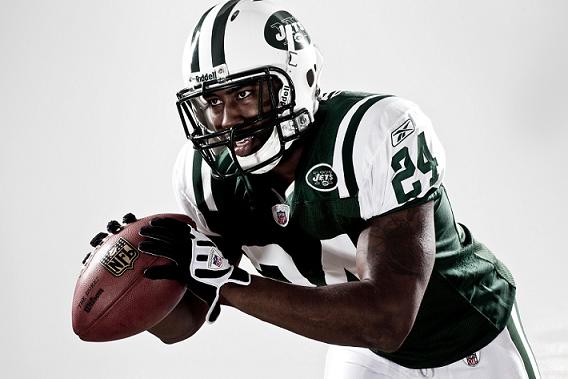 Chris McGrath/Getty Images
Darrelle Revis Won't Travel To Miami
Darrelle Revis was not on the practice field for the New York Jets, and later coach Rex Ryan said he will not play Sunday against the Dolphins. The All-Pro cornerback strained his left hamstring in the Jets' 28-14 victory Sunday against the New England Patriots. On Monday, Revis would not rule himself out for the Dolphins game, but acknowledged it could take him a week or two to heal. He will remain in New York for treatment and will not accompany the team to Miami.
Getty Images
Sources: Chargers Reject Several Deals For Jackson
The San Diego Chargers have rejected several trade offers for wide receiver Vincent Jackson, letting the Wednesday deadline to trade him pass without making a deal, according to multiple sources. The NFL and the NFL Players Association had agreed to a 4 p.m. ET deadline for San Diego to trade Jackson, which would have allowed him to be active by the fifth week of the regular season; Jackson is under a three-game suspension for past DUI offenses. When he did not sign his restricted free agent tender, the Chargers placed Jackson on an exempt list, which prohibited him from playing for three more weeks.
Getty Images
Bowyer Hit With 150-Point Penalty For Violations
Clint Bowyer's race-winning car at New Hampshire failed an intense NASCAR inspection today, earning the driver a 150-point penalty that could wipe out his championship chances. NASCAR also fined crew chief Shane Wilson $150,000, and suspended him for the next six Sprint Cup races. Car chief Chad Haney was also suspended six races, and team owner Richard Childress was docked 50 owner points. Bowyer won Sunday's opening race in the Chase for the Sprint Cup championship to vault from 12th to second in the standings. The penalty drops him back to last place, 185 points behind leader Denny Hamlin. The car passed its initial inspection at New Hampshire on Sunday, but was taken by NASCAR back to its North Carolina research and development center. It was there that NASCAR found the rear end of the car had been manipulated by Richard Childress Racing.
The Associated Press contributed to this report.