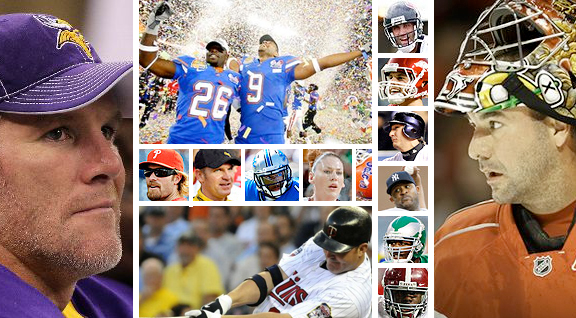 Afternoon Buzz: Lunch Time Hot-Links - several people and sporting events are lighting up the Internet right now. We've culled through all the noise and have selected some stuff you might want to check out:
NFL:
Brett Favre's Vikes, Pete Carroll's Seahawks and Eli Manning's Giants had rough Week 2 showings, but Rick Reilly spares no man or team in his list of 32 "complisults."
Rick Reilly: Not that there's anything wrong with that
Mike Sando reveals his MVP Watch where Drew Brees' stock is down and Michael Vick's stock is way up.
COLLEGE FOOTBALL:
Now on ESPN.com, Ivan Maisel examines the intensity of college football conference play, particularly in the SEC.
Ivan Maisel: SEC teams gear up for conference play
What can Notre Dame do to reverse the trend of close losses? Brian Bennett breaks down the options, now on ESPN.com.
Brian Bennett: Irish still trying to find the finish line
MLB:
The MLB regular season is winding down and teams are fighting for a spot in the playoffs. To find out where your team stands, log on to ESPN.com and check out our "Hunt For October" page.
Now on ESPN.com, Tim Kurkjian explains how David Price has grown from phenom to ace.
Tim Kurkjian: BBTN Clubhouse David Price has grown from phenom to ace
The Twins may have clinched the AL Central, but it's NL slugger Troy Tulowitzki that celebrated ownership of the No. 1 spot on our weekly Cross-Sport Power Rankings. Log on to ESPN.com now to see who else made the cut.
Cross-Sport Power Rankings: Tulowitzki Is No. 1
NBA:
For the latest news on Carmelo Anthony's next destination, log on to ESPN.com and check out NBA Rumor Central.
NBA Rumor Central: Knicks Are Melo's No. 1 Choice?
NHL:
Marty Turco is following in the footsteps of Stanley Cup-winning goalie Antti Niemi. Now on ESPNChicago.com, Jesse Rogers breaks down his debut.