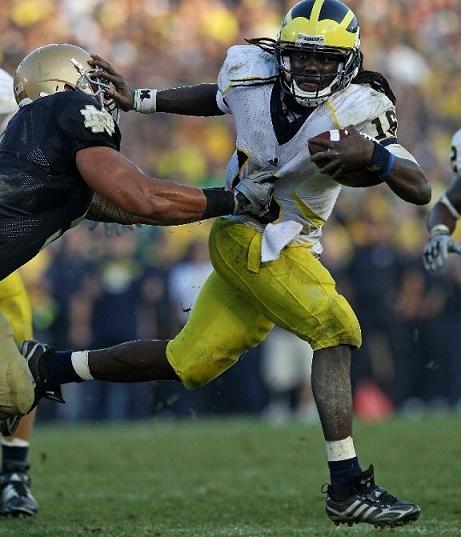 Getty Images
"Laces? I don't need no stinking laces!"
University of Michigan's star sophomore quarterback Denard "Shoelace" Robinson has quickly thrown his name into the "Heisman hopeful" conversation, thanks to his explosive speed (he's also a track star for the Wolverines) and accurate arm. His name is becoming more famous with each game he plays, but his nickname is nearing "legend" status. You see, "Shoelace" has refused to tie his shoes since childhood. Instead, he prefers to secure his cleats with Velcro fasteners. Regardless, conversation about the nickname has gone viral and the legend is growing.
But Robinson isn't the only Legend of the Foot. Here are some other famous feet from the past century in sports:
Shamed White Sox Legend
While playing in a "Mill League" game (equivalent to today's minor leagues), Jackson had some nagging blisters on his feet from wearing a new pair of cleats. The pain was so great that Jackson removed his shoes and played the remainder of the game ... wait for it ... SHOELESS! And, even though he was only shoeless for that one game, the name stuck and eventually became legendary.
Believe it or not, there have been some place-kickers in pro football whose preferred footwear was none at all. Players such as Rich Karlis, Mike Lansford and Tony Franklin all kicked field goals and extra points with scantily-clad tootsies. Even though a professional pigskin hasn't been propelled by human skin since 1990, the legend of the barefoot baller lives on.
Guard, Dallas Mavericks
There are a few superstitions that have made Jason Terry famous off the court, such as eating chicken before every game or sleeping in the opposing team's shorts the night before he played them. However, his success and fame on the court just might be attributed to the fact that he prefers to wear not one, not two but FIVE pairs of socks under his kicks. If you ask Terry why so many socks, he'll tell you it's not about superstition as much as comfort -- and who can argue with that?
Olympic Runner
When you win five gold medals for running in the Olympics, you have every right to wear Johnson's sneaker of choice: completely gold running shoes. Luckily, the gold was a dye-job. Picture the carats on those things.
Pitcher, San Francisco Giants
Can you imagine getting fined $1,000 for wearing a pair of sneakers? What if those sneakers were a one-of-a-kind gift from Nike? That's exactly what happened to the Giants All-Star closer this past Summer, merely because the cleats had a bright and shiny orange wave across the laces that might have been considered a distraction to batters. Although this is amusing on its own, we think Wilson's reaction takes the cake: "They're just cleats. But, apparently, they have magical powers."
Sorry, Denard "Shoelace" Robinson, but yours are just the latest in a long line of famous athlete's foot ... er, um, feet. But keep up the fancy footwork, nonetheless.