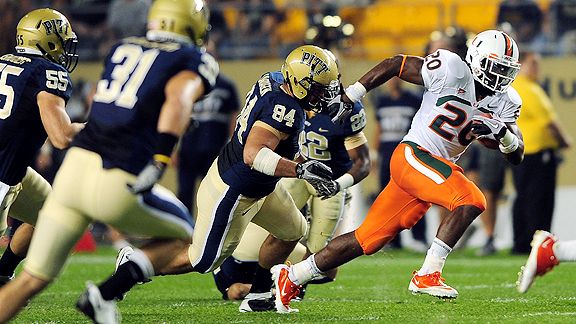 Andrew Weber/US Presswire
No. 19 Miami dominated Pittsburgh, winning 31-3.
Ichiro Suzuki Sets 200-Hit Milestone
Seattle's Ichiro Suzuki became the first player with 10 straight 200-hit seasons Thursday with a single to center in the fifth inning of the Mariners' game against the Toronto Blue Jays. Suzuki, whose 200 hits are the most in the majors, got hit #199 with a two-out double to left off Blue Jays right-hander Shawn Hill in the third.
Jose Bautista Hits 50th Home Run
Blue Jays outfielder Jose Bautista hit his major league-leading 50th home run Thursday, a first-inning solo blast off Seattle Mariners right-hander Felix Hernandez. Bautista is the 26th player in baseball history to reach the 50-home run mark in a season, and the first since Prince Fielder (50) and Alex Rodriguez (54) did it in 2007.
Sources: Warriors On Verge Of Replacing Don Nelson
ESPN.com's Marc Stein is reporting that with just a few days to go before the start of training camp, the Golden State Warriors are on the verge of making a coaching change. Sources with knowledge of the Warriors' thinking are saying that the club's new owners, Joe Lacob and Peter Guber, have decided to part company with Don Nelson and replace him with Nelson assistant Keith Smart. The move is scheduled to be finalized by the end of the week, sources said, with Smart taking charge of the team in time for media day Monday and the team's first practice of the season Tuesday.
After the jump: Gilbert Arenas, Percy Harvin, Josh Hamilton, Andrew Bynum and Fireman Ed.
Stern Tells Arenas Not To Talk About Gun Incident Anymore
NBA Commissioner David Stern spoke with Gilbert Arenas on Tuesday to express his excitement about having Arenas back in the league after the lengthy banishment, and he told Arenas he can talk about anything going forward - except the infamous dispute last December involving guns. Stern later called Wizards owner Ted Leonsis to inform him public comments from the organization about the situation are also off limits. Stern wants Arenas and the Wizards to put it all behind them. "It's time to move on, rather than obsess about the past," Stern said.
Good news for Brett Favre and the Minnesota offense -- Three days after suffering a migraine attack, Percy Harvin was on the field during the open portion of Vikings practice Thursday. The 2nd year wide receiver said he "woke up energized and ready" today. Harvin has battled a history of migraines.
Josh Hamilton Targets Final 3 Games Of Regular Season For Return
Josh Hamilton is targeting the final three games of the season as most realistic for his return from two fractured ribs, but he will try to get back to the Rangers a few games sooner if possible.
Lakers' Andrew Bynum Not Expected To Play In Preseason
Andrew Bynum is not expected to play in any of the Lakers' eight exhibition games next month and there is some mild concern that he might not be ready for the regular-season opener Oct. 26, a team spokesman said. Bynum underwent surgery to mend torn cartilage in his right knee July 28, and has been undergoing daily therapy.
76ERS Acquire First-Rounder Craig Brackins
Philadelphia acquired rookie forward Craig Brackins from New Orleans for Willie Green and Jason Smith. The Sixers also got forward Darius Songaila.
Fireman Ed Charged With Simple Assault
Jets superfan "Fireman Ed" Anzalone faces a simple assault charge after allegedly shoving Christopher Black during the Giants-Jets preseason game on Aug. 16 at New Meadowlands Stadium. The incident, now a staple on YouTube, occurred with a little more than three minutes remaining in the first quarter. The charge, a misdemeanor, was filed in East Rutherford Municipal Court. Trial scheduled for Oct. 27.
The Associated Press contributed to this report.