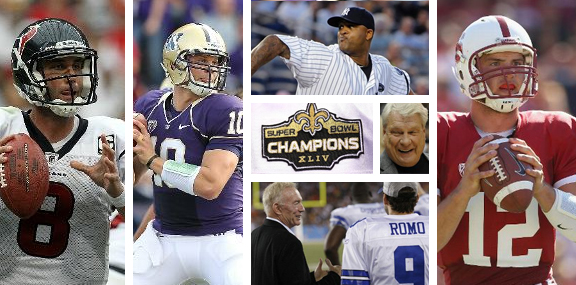 Afternoon Buzz: Lunch Time Hot-Links - several people and sporting events are lighting up the Internet right now. We've culled through all the noise and have selected some stuff you might want to check out:
NFL:
Now on ESPN.com, Roy S. Johnson explains why Jerry Jones, for the first time ever, no longer has the baddest NFL team in the state of Texas.
Roy S. Johnson: Titans Overtake Cowboys As Best In State
It's Week 3 of NFL action and our analysts' picks are in. See which team everybody is voting against.
COLLEGE FOOTBALL:
Jake Locker's falling stock is Andrew Luck's gain. Who else is moving on the Big Board? Check out Mel Kiper's latest now on ESPN.com.
NBA:
J.A. Adande explains why letting Don Nelson go is the right move for the Warriors.
J.A. Adande: Nellie's Oust Good For Warriors
MLB
Did CC Sabathia throw away his chances of winning the Cy Young? Now on ESPN.com, Rob Parker examines.
Rob Parker: No Cy Young For CC
If the MLB season ended today, would your team make the cut? Check out the "Hunt For October" page for all your playoff possibilities.