Getty Images
Phil Jackson Focuses On 4th 3-Peat
Phil Jackson officially embarked on what he is calling his "last stand" as an NBA head coach, addressing the media for the first time since announcing in July he would be returning to the Lakers for his 11th and final season. But, he was also up to his old ways of leaving the door slightly ajar when it comes to his future on the sidelines. "I've kind of looked at every season as the last season, especially here for the last three years," Jackson said. "It's not all that different. If feels kind of much the same."
Getty Images
Shanahan Mum On Albert Haynesworth's Status
Albert Haynesworth's ankle is healthy and the defensive lineman could return to the field Sunday. But coach Mike Shanahan won't guarantee anything. Even though Haynesworth and Anthony Bryant are the only nose tackles behind Ma'ake Kemoeatu, Shanahan said Haynesworth won't necessarily be on the active roster Sunday.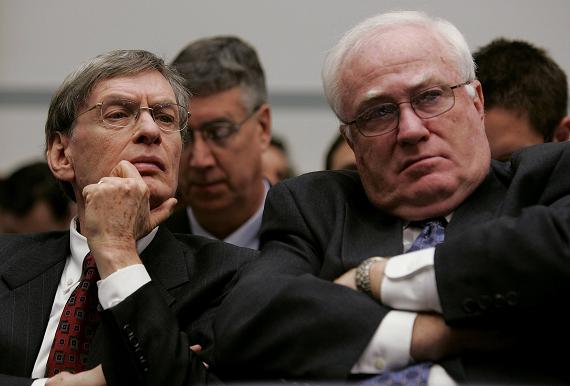 Mark Wilson/Getty Images
Sources: Bob DuPuy 'On His Way Out'
There is change in the air in one of the highest offices in Major League Baseball. Bob DuPuy, who essentially has served as the No. 2-ranked executive in MLB for the past eight years as president and chief operating officer, is expected to move out of his current role, according to three high-ranking executives within baseball. DuPuy, who turns 63 this year, has been a longtime ally of commissioner Bud Selig, and in recent years has been at the forefront of franchise and ballpark efforts for the Washington Nationals and the Florida Marlins. But baseball executives who know both men say that Selig and DuPuy are not as close as they once were.