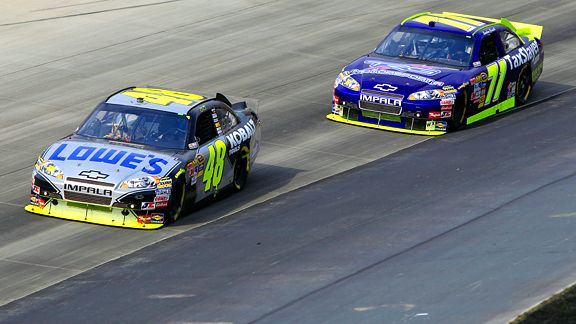 Chris Trotman/Getty Images
Johnson Wins At Dover, Gains Ground In Chase
Jimmie Johnson dominated again at Dover International Speedway, winning the second race of the Chase for the Sprint Cup championship for his sixth victory of the season. Johnson won Sunday for the third time in four races on the 1-mile concrete track. He shook off a rare poor finish in last week's Chase opener at New Hampshire to take the pole, win the race and shoot up to second in the points standings. Jeff Burton was second and non-Chase driver Joey Logano was third. Chase drivers Kurt Busch and Carl Edwards were fourth and fifth.
Getty Images
Yanks Switch Again, Hughes To Start vs. Boston
With the New York Yankees tumbling to the finish line, manager Joe Girardi is showing urgency by starting Phil Hughes on Sunday night against the Boston Red Sox. He replaces Dustin Moseley. Hughes is 17-8 with a 4.31 ERA. The Yankees are making the move because the Red Sox suddenly have a shot to make the final week of the season very interesting if they can win on Sunday. The Yankees, losers of 13 of their last 19, have a magic number of three to clinch the wild card. If they were to win on Sunday night, the Yankees would basically end the Red Sox chances.
Getty Images
Goodell Would Take Lockout Pay Cut, Report Says
NFL commissioner Roger Goodell will suffer a pay cut in the event of a labor stoppage, according to a report by FoxSports.com. The plan to decrease the salaries of Goodell as well as other top-level league brass would be the first of a three-phase plan the league has devised in the event of a lockout, according to the report. "Our employees want to know what we would do if despite our best good-faith efforts, no agreement is reached," NFL public relations head Greg Aiello told FoxSports.com. "Our primary focus remains on negotiating a new agreement."
The Associated Press contributed to this report.