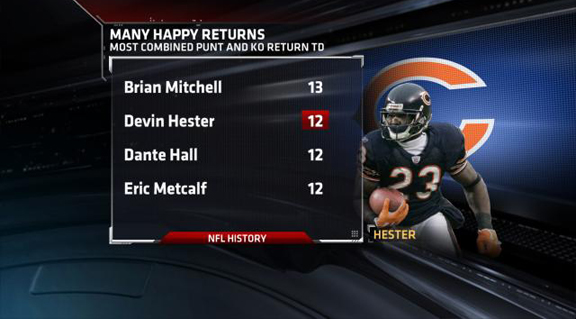 OFF AND RUNNING: Devin Hester now has 12 career punt and kickoff return touchdowns. That is tied for the 2nd-most in NFL history and is one shy of Brian Mitchell's NFL record.
After the jump, Anquan Boldin makes history, Tom Brady's riding a new streak and LT adds another impressive stat to his hall of fame resume.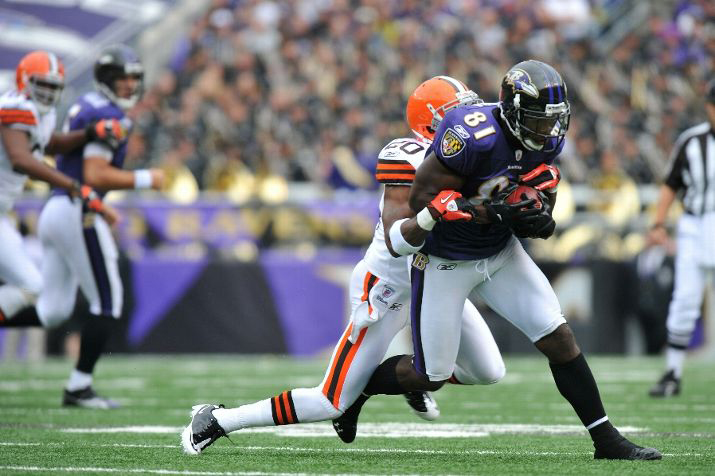 WELCOME TO BALTIMORE: Baltimore wide receiver Anquan Boldin had eight catches for 142 yards and three touchdowns in the Ravens' 24-17 victory over the Cleveland Browns. Boldin now has 606 receptions in 98 games, reaching 600 career receptions in the fewest games in NFL history.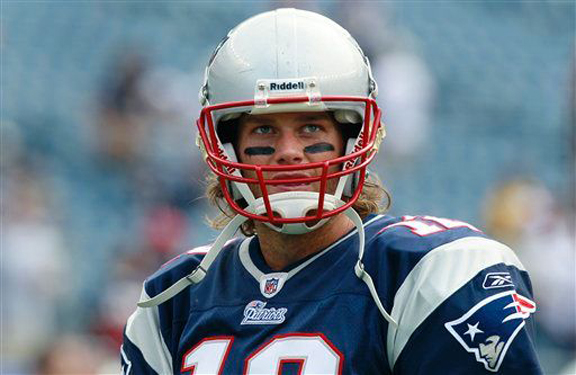 BRADY, PATS STREAKING: New England quarterback Tom Brady has now won 22 consecutive regular-season starts at home, tying Pro Football Hall of Famer John Elway (1996-1998) for the second-most consecutive home wins as a starting quarterback since 1970. Brett Favre has the longest such streak since 1970 with 25 consecutive home wins with the Green Bay Packers (1995-1998). The next Patriots home game is Sun, Oct 17 against the Baltimore Ravens.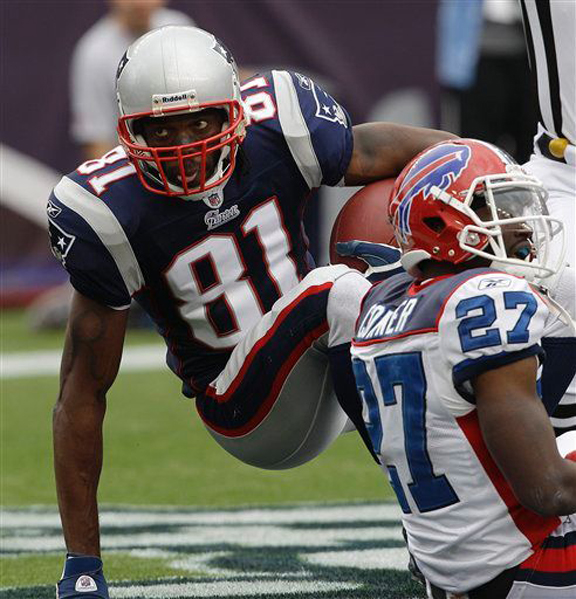 ELITE COMPANY: New England wide receiver Randy Moss had two touchdown catches in the Patriots' 38-30 win over the Buffalo Bills. Moss now has 151 career touchdown receptions and joins Pro Football Hall of Famer Jerry Rice (197) as the only players in NFL history with at least 150 TD catches. Moss now has 14,604 career receiving yards, surpassing Marvin Harrison (14,580) for the fifth-most receiving yards in NFL history.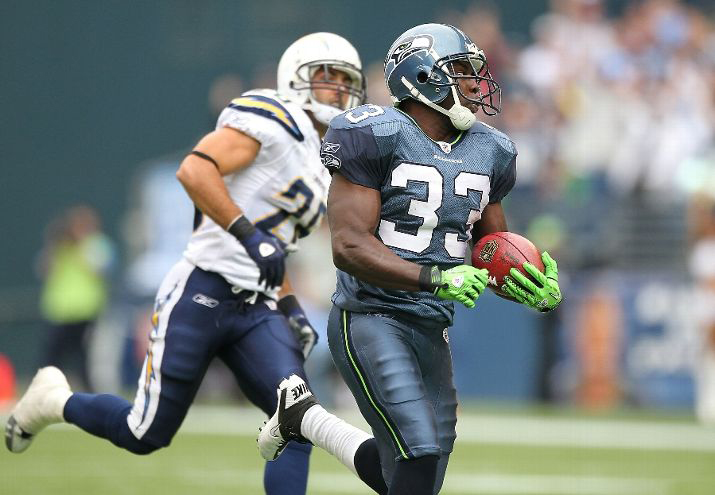 CHASING HESTER: Seattle's Leon Washington had kickoff-return touchdowns of 101 and 99 yards in the Seahawks' 27-20 win over the San Diego Chargers. Washington is the 10th player in NFL history with two kickoff-return touchdowns in a game.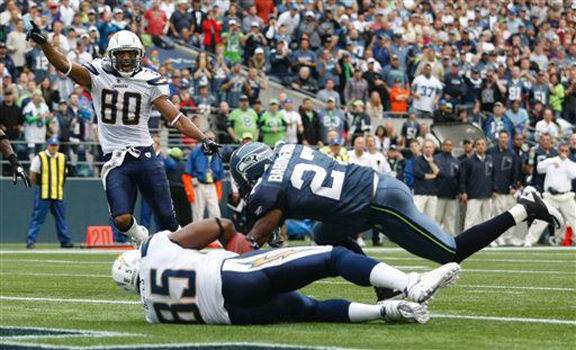 NEXT: San Diego tight end Antonio Gates had one touchdown reception in the Chargers' 27-20 loss to the Seattle Seahawks. Gates, who has 63 career touchdown catches, passed Shannon Sharpe (62) for the second-most TD receptions in NFL history by a tight end.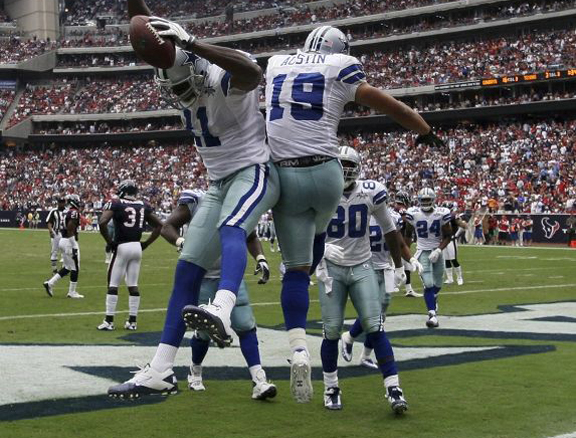 NOT JUST ANOTHER "W": The Dallas Cowboys, who defeated the Houston Texans 27-13, won their 400th game (including postseason) since the 1970 AFL-NFL merger. The Cowboys join the Pittsburgh Steelers (406) as the only teams since 1970 with 400 total victories.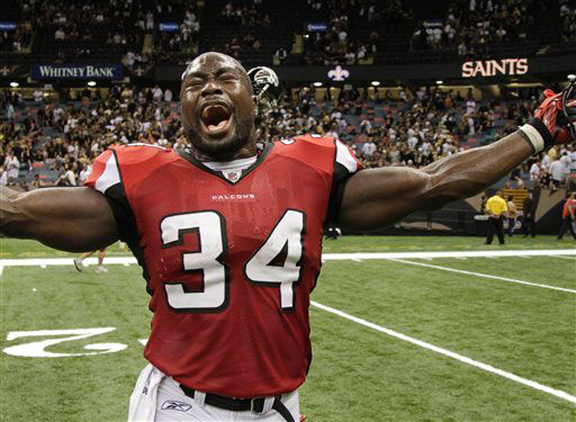 NFC SOUTH STATEMENT: The Atlanta Falcons defeated the New Orleans Saints 27-24 in overtime, marking the third consecutive week with an overtime game to start the season. The last time an NFL season had at least one overtime game in each of the first three weeks was 2002.
CANTON BOUND: New York Jets running back LaDainian Tomlinson recorded 88 yards from scrimmage (70 rushing, 18 receiving) and a rushing touchdown in the Jets' 31-23 victory over the Miami Dolphins on Sunday night, becoming the fifth player in NFL annals to record 12,000 rushing yards & 4,000 receiving yards. Tomlinson now has 268 scrimmage yards (208 rushing, 60 receiving) through three games this season, upping his career totals to 12,698 rushing yards and 4,015 receiving yards.