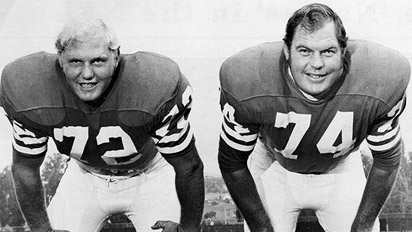 Photo: Utah State Athletics
Although Merlin and Phil aren't post-adorable-child-actor twins, these Olsens still enjoy chunky sunglasses and Starbucks.
Utah State has announced that they will be naming their football field inside Romney Stadium after USU standout, NFL great, and Little House on the Prairie character actor, Merlin Olsen.
The official dedication won't take place until next season and we all look forward to seeing the sculpture of "Jonathan Garvey" in Logan, Utah. We also hope this starts a string of former professional athletes turned actors gaining proper recognition for their performances on both the field and the small-screen.
Here are some favorites we'll be keeping an eye on:
Alex "The Mad Duck" Karras - played football for Iowa and starred with the Detroit Lions through the 1960's before warming our hearts as George Papadapolis on "Webster" through the 1980's;
Bob "Mr. Baseball" Uecker - parlayed his below-average career as a catcher through the 1960's with the Braves, Cardinals, and Phillies into a comedic routine that spanned 64 appearances on The Tonight Show, a starring role as George Owens on "Mr. Belvedere," and a classic run of memorable commercials; and
Bob Golic - a defensive standout at Notre Dame and Pro Bowl linemen for the Cleveland Browns who kept Zack Morris and crew in check as Resident Advisor Mike Rogers on "Saved by the Bell: The College Years" while simultaneously managing to hold down one of the best mullets of the early 1990's.