The Yankees and Rays and Reds all clinched playoff berths when they won last night. The Yankees and Rays still need to decide which one of them will win the AL East, but the Reds walked away with the NL Central when they walked off on a homer from Jay Bruce. It's the first walk-off jack to clinch a berth since Steve Finley's grand slam did it for the Dodgers in 2004, and it's the first playoff berth clinched by Cincy since 1995. (Even the Bengals have been to the playoffs twice since then.)
More about the Reds and their magical season, after the jump.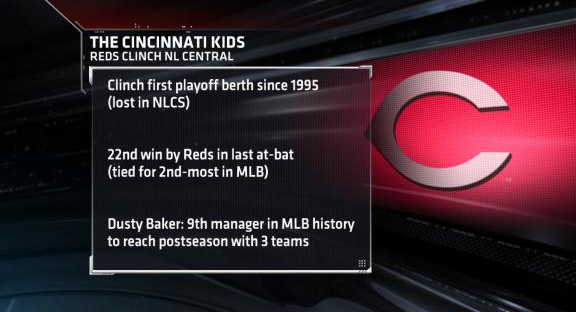 The Reds clinch their first playoff berth since 1995 in typical style - with a flair for the dramatic, winning in their last at-bat for the 22nd time this season. For Dusty Baker, it's the third different team he has taken to the postseason. Only 8 other managers have accomplished that feat.