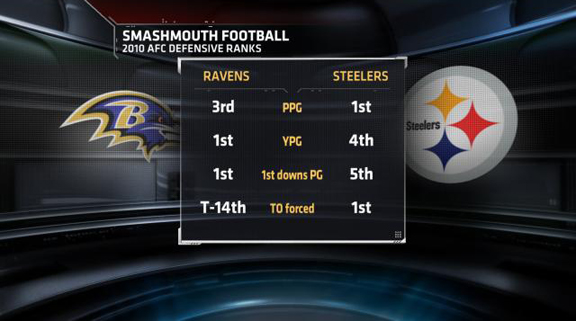 D-FENSE: All eyes likely will be focused on the defenses in this game, as every point will be hard-earned. The Steelers allow the fewest points in the NFL, while the Ravens are 3rd in the AFC. The teams are pretty comparable except for turnovers forced - the Steelers lead the conference while the Ravens are tied for last. So look for turnovers to be a possible turning point in Sunday's matchup.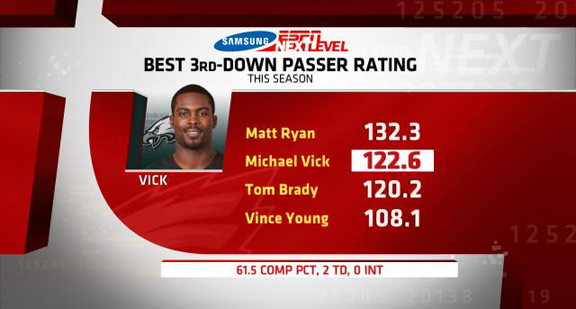 NEXT LEVEL: Michael Vick has been very effective on 3rd down this season. His 122.6 passer rating on 3rd down is the 2nd best in the NFL, behind only Atlanta's Matt Ryan. He's thrown a pair of TD passes and no interceptions, completing over 60 pct of his passes on that crucial down.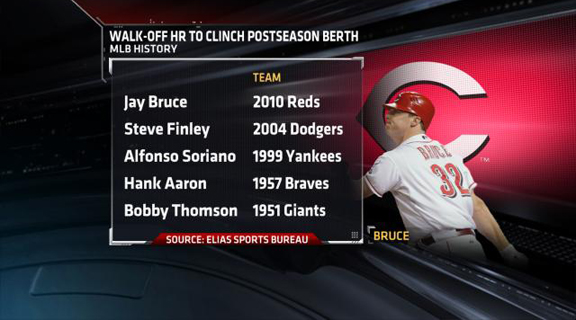 ONE SWING TO RULE THEM ALL: A historical home run indeed for Jay Bruce. He's just the 5th player in Major League history to hit a walk-off homer to clinch a playoff berth. He joins a list comprised of Steve Finley, Alfonso Soriano, Hank Aaron and the late Bobby Thomson.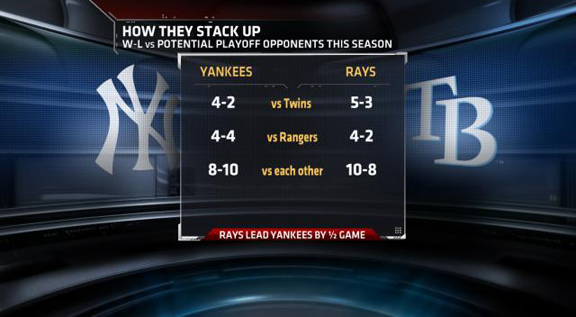 LOOKING AHEAD: With the Rays and Yankees both punching their postseason tickets Tuesday, lets look now at how they fared this season against their possible playoff opponents. While the Rays won their season series vs both the Twins and Rangers, the Yankees were 4-2 against the Twins, but just 4-4 against the Rangers. If they were to meet in the ALCS, it should be noted that the Rays won the season series against the Yankees 10-8.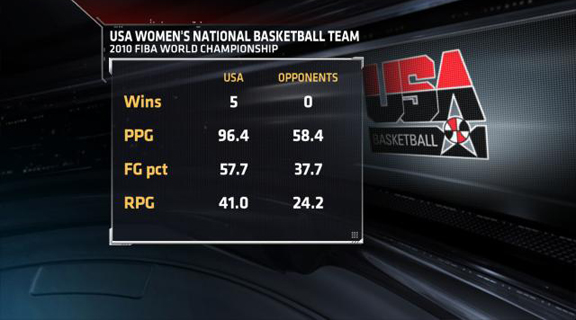 GOING FOR GOLD: The United States have dominated the competition in the 1st 5 games of the FIBA World Championship. The ladies have won each game by an average of 38 points and have dominated the boards. Up next is 5-0 Australia. Team USA is 8-0 all-time vs Australia in World Championship play.