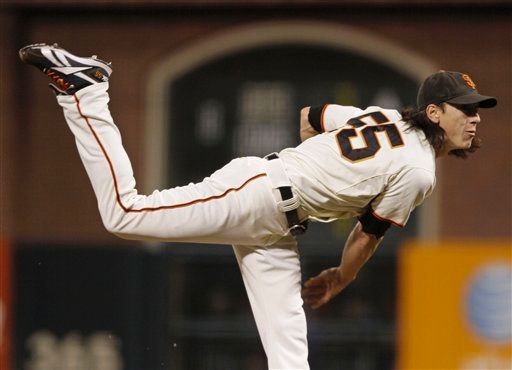 San Francisco Giants starting pitcher Tim Lincecum works against the Arizona Diamondbacks during the first inning Wednesday night in San Francisco. (AP Photo/Eric Risberg)
Giants Beat Diamondbacks, Stay Two Games Up in NL West
Tim Lincecum delivered for the San Francisco Giants Wednesday night. "The Freak" lasted seven innings, allowed six hits, one run and struck out 11 batters in the 3-1 win against the Diamondbacks. Pat Burrell led the Giants offense with 1 HR and 3 RBI. The Giants hold a two-game lead over the Padres, who close out the season with a three-game series in San Francisco starting Friday.
Donovan McNabb will play the role of enemy at Lincoln Financial Field on Sunday. McNabb, who was traded from the Eagles to the Redskins in the offseason, told ESPN-980 in Washington on Tuesday that he expects more cheers than boos.
Derek Lowe Leads Braves to Complete Sweep of Marlins
Atlanta's closing in on its first trip to the playoffs since 2005. The Braves topped the Florida Marlins 5-1 Wednesday, completing a three-game sweep behind Derek Lowe's fifth win of September. Atlanta closes at home against NL East champion Philadelphia with a three-game series starting Friday night.
Nick Collins: 'I Could Have Walked Away'
Green Bay Packers safety Nick Collins apologized to his team and fans on Wednesday. Collins confronted a fan following Monday night's loss to the Chicago Bears, and later threw his mouth piece into the stands. Milwaukee's WITI-TV captured video of the incident, reporting that the fan spit on Collins and used a racial slur."This is a situation that I could have walked away from but, you know, heat of the moment," Collins said. "Things happen. Both sides (were) out of line."
Ray Lewis: Big Ben Regrets He Can't Play
Ray Lewis has been texting with Steelers QB Ben Roethlisberger. Lewis told Pittsburgh reporters during a conference call on Wednesday that "Big Ben" sent him a text saying he wishes he could play in Sunday's Ravens-Steelers rivalry game.
Jags WR Osgood Jumps Out Window to Avoid Attack
Jags WR Kassim Osgood leapt out of a second-floor window to escape a gun-wielding man who attacked him and a 19-year-old woman. This according to the Jacksonville Sheriff's Office, who said the armed intruder exchanged gunfire with his ex-girlfriend, Mackenzie Rae Putnal, after putting a gun to her head on Monday night. Police say Osgood, 30, sustained some minor bruises during the attack and while fleeing.
Out Of Boot, Florida's Demps 'Probable' vs. Tide
Florida running back Jeff Demps is no longer wearing a protective boot, and coach Urban Meyer says he is "probable" to play against top-ranked Alabama on Saturday. Demps bruised his left foot September 18 at Tennessee and re-injured it during Saturday's win against Kentucky.
Rangers Hamilton 'Feels Good', to Return Friday
The Texas Rangers lineup is about to get a boost. All-Star OF Josh Hamilton says he plans to return to the lineup Friday as the DH. Hamilton is recovering from small fractures in two ribs suffered against the Twins on December 4th.
Alberto Contador Tests Positive
Tour de France winner Alberto Contador has an announcement to make. Contador plans to hold a news conference Thursday where he will address reports of a positive drug test, his publicist said in a statement. Contador, who won the Tour de France for the third time, apparently tested positive for bronchodilator clenbuterol during drug tests conducted on the final day of this year's race.
Ted Leonsis Fined For Praising Hard Cap
Washington Wizards majority owner Ted Leonsis broke an NBA rule, and now he's paying for it. Leonsis told local business leaders Wednesday that he expects the NBA will soon have a hard salary cap similar to the NHL's model. NBA commissioner David Stern said that's not necessarily true -- and the NBA fined Leonsis $100,000 for "unauthorized public comments regarding the league's collective bargaining negotiations."
Note: The Elias Sports Bureau, ESPN Stats and Information group and The Associated Press contributed to this report.