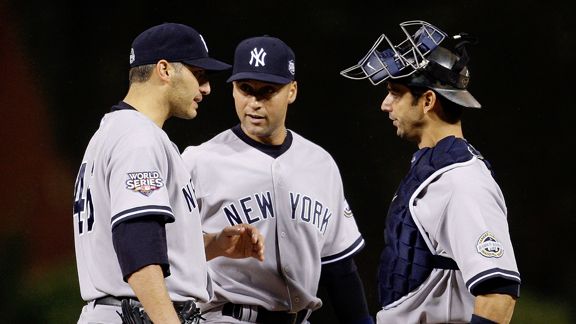 Photo: Pool/Getty Images
"I'm thinking about coming back again next year - any chance you guys need a third roommate?"
New York Yankees' playoff ace Andy Pettitte has put the word out on the street that he's planning to pitch again in 2010. The big question is: on which team will he make his return?
Pettitte has now pitched 15 seasons in the majors, spending 12 of those in New York and 3 at home in Texas. He joined the Yankees back in 1995 when the roster was occupied with names like "Posada," "Rivera," and "Jeter." Of course, "Mattingly," "Boggs," and "Strawberry" were there too. As was Black Jack McDowell, aka Stickfigure to his musical fans, who was in front of Pettitte in the Yankees' rotation. Yes, the same Jack McDowell who solidified himself as "the wacky pro" with his performances in MTV's Rock n' Jock Softball Challenge.
Pettitte's a free agent again this offseason but he's already made it known that he wants to return to the Yankees next year. All indications are that the Yankees will be more than happy to have Pettitte back in their rotation in 2010, but one word of advice to Big Andy as he begins his contract negotiations: as a free agent, if you at least pretend to leave your team, they'll pay you more just to keep you.
There, now that you've read that, you owe us 15% on your new contract.