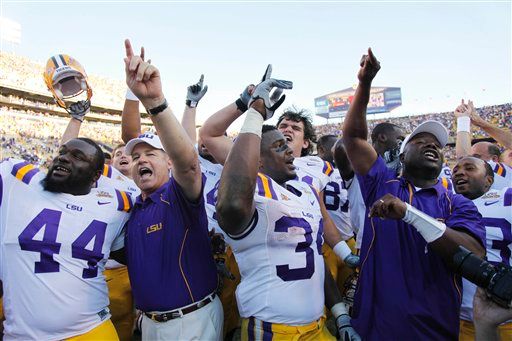 LSU defensive tackle J.C. Copeland (44), head coach Les Miles, and running back Stevan Ridley (34) celebrate their 16-14 victory over Tennessee in Baton Rouge on Saturday, Oct. 2, 2010.
(AP Photo/Gerald Herbert)
LSU Stays Unbeaten After Tennessee's Penalty Gives Tigers Second Chance to Score
No. 12 LSU remained unbeaten with a 16-14 victory Saturday after a Volunteers penalty for too many players on the field rescued the Tigers from a botched play as time ran out. LSU RB Stevan Ridley ended the madness, scoring from one yard out.
Mark Ingram Scores Two TDs as Alabama Overwhelms Florida
Alabama proved its No.1 ranking Saturday night, topping No. 7 Florida 31-6. Crimson Tide RB Mark Ingram scored 2 TDs and C.J. Mosley returned an INT 35 yards for a TD in the win. Round 2 this season between the last two national champions could come in Atlanta for the SEC title.
Padres Stay Alive, Take Second Game in Final Series With Giants
The NL West playoff picture is getting interesting. The Padres refused to lose Saturday, topping the division-leading Giants 4-2. San Diego is now one game back of San Francisco and needs to win on Sunday to have a shot at the division title. If the Braves lose again Sunday to the Phillies, the Giants and Padres would both enter the postseason-- Sunday's winner as the West champion, and the loser as the wild card.
Mark Dantonio Back in Hospital
Michigan State head football coach Mark Dantonio watched his Spartans defeat No. 11 Wisconsin 34-24 from a hospital room on Saturday. Dantonio was admitted to Sparrow Hospital on Thursday after a routine post-operative examination revealed he had a blood clot in his leg.
U.S. Falters Before Play Stopped
The United States has the lead but Europe has the momentum at the Ryder Cup. When play was called because of darkness on Saturday, the U.S. had a 6-4 lead. But Europe was ahead in all six matches that started late in the afternoon, giving the home team an undeniable surge of confidence going into another marathon on Sunday.
No. 4 Oregon Overcomes 18-Point Deficit to Beat No. 9 Stanford
No. 4 Oregon started slowly and finished strong on Saturday, defeating ninth-ranked Stanford 52-31. Oregon RB LaMichael James rushed 31 times for 257 yards and 3 TDs in the win. Stanford's QB Andrew Luck threw for 341 yards and 2 TDs in the loss.
Marco Murray runs For Two Scores as Oklahoma Hands Texas Second Straight Loss
No. 8 Oklahoma left the Red River rivalry a winner on Saturday. The Sooners escaped with a 28-20 win against the 21st-ranked Longhorns. Oklahoma QB Landry Jones threw for 236 yards and 2 TDs in the win. Texas has dropped back-to-back games for the first time since 2007.
Denard Robinson Scores With 17 Seconds Left as Michigan Breaks Indiana
Michigan QB Denard Robinson's knee is doing just fine. Robinson rushed 19 times for 217 yards and two TDs -- and completed 10 of 16 passes for 277 yards with three TDs in Saturday's 42-35 win against Indiana. Robinson's 42-yard pass with 21 seconds left set up his own 4-yard TD run to lift the No. 19 Wolverines over the Hoosiers.
U.S. to Play Czech Republic in Final
Let's go for the gold. Tamika Catchings scored 14 points to lead the United States to a 106-70 victory over Spain on Saturday. Sylvia Fowles added 13 points for the Americans, who now play the Czech Republic in the gold-medal game of the 2010 FIBA World Championship for Women on Sunday.
Boston Takes Game 2 Against Yankees
Game 2 took four hours to play and ended with a Red Sox win. Boston defeated the Yankees 7-6 in 10 innings of play, giving the Bronx Bombers a split of Saturday's twin bill. New York is now tied with Tampa Bay for first place in the AL East. If the Rays and Yankees finish the regular season in a tie Sunday, the Rays win the division because it won the head-to-head season series 10-8. The Yankees would earn the wild card.
Note: The Elias Sports Bureau, ESPN Stats and Information group and The Associated Press contributed to this report.