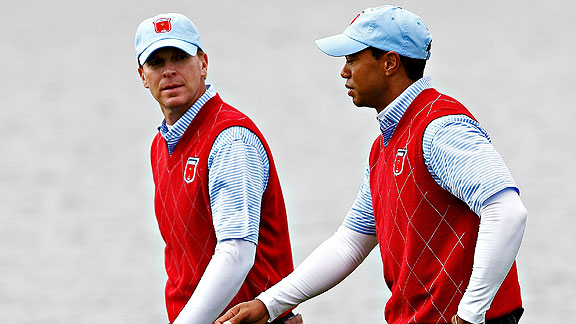 Getty Images
Tiger Falls In His Worst Ryder Cup Loss
There have been many low moments on the golf course this year for Tiger Woods. Another one was added to the list on Sunday morning at Celtic Manor. Along with partner Steve Stricker, Woods suffered his worst defeat in six Ryder Cup appearances, a 6 and 5 loss to Europeans Luke Donald and Lee Westwood. That means the foursomes match ended on the 13th hole. Sunday's result was the first of the third-session matches to end, pulling the Europeans within 6-5 with the other five matches still in progress -- and Europe ahead in all of them. Matches will finish-up on Monday.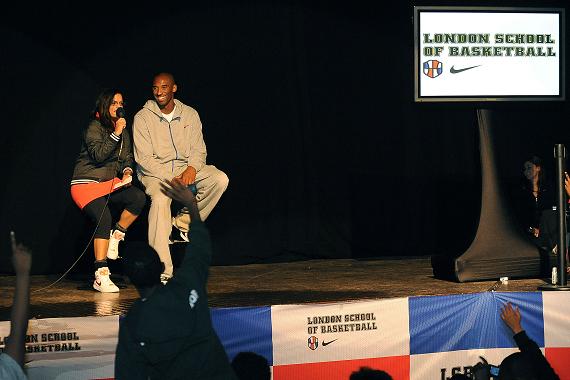 Getty Images
NBA teams currently in Europe will go on with their planned preseason activities amid heightened terror concerns, but the league has promised to take "appropriate" security measures. The Los Angeles Lakers and Minnesota Timberwolves are in London preparing for their preseason opener on Monday at the O2 Arena. The New York Knicks play Olimpia Milano in Milan on Sunday. The State Department issued a travel alert on Sunday for Europe that advises U.S. citizens living or traveling there to take more precautions about their personal security.
Getty Images
Broncos QB Tim Tebow will be the team's second-string quarterback today vs. the Titans, a promotion after being inactive a week ago. Head coach Josh McDaniels said Tebow's status would be determined on a week-to-week basis. Apparently the rookie from Florida showed in this week's practice he was more valuable to the team to be active on game day as the primary backup for Kyle Orton. Brady Quinn, who was second on the depth chart a week ago, will be the Broncos' number-three emergency QB this afternoon.
The Associated Press contributed to this report.