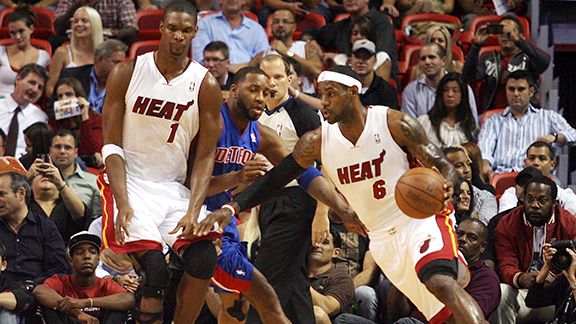 Getty Images
Miami's big three was on the court together for its preseason opener for a big three minutes. That's when Dwyane Wade left with a strained hamstring. Miami beat Detroit 105-89.
Report: Pats Talking To Vikes About Randy Moss Trade
The New England Patriots are in talks to trade wide receiver Randy Moss to the Minnesota Vikings, FoxSports.com reported on Tuesday. The deal is being held up because Moss would have to sign an extension with the Vikings, according to the report. Contract talks have not even begun, a league source told Profootballtalk.com Tuesday night. The seven-time Pro Bowl receiver is in the final year of his four-year deal with New England and has voiced his displeasure with his contract status.
Burnett Out Of Yanks' Rotation vs. Twins
A.J. Burnett will not be part of the New York Yankees' starting rotation in the American League Division Series. The Yankees announced Tuesday that CC Sabathia will start Game 1 against the Minnesota Twins. Andy Pettitte will start in Game 2, while Phil Hughes will start Game 3 when the series moves from Minnesota to the Bronx. Yankees manager Joe Girardi wants to throw as many lefties as he can against a Minnesota lineup that is loaded with lefties, so he will bring Sabathia back for Game 4 on short rest if needed.
Seahawks Get RB Lynch From Bills
Bills running back Marshawn Lynch was traded to Seattle and the Seahawks made room for him by releasing Julius Jones. Buffalo will receive a 2011 fourth-round pick and a 2012 conditional pick, a Seahawks team source told ESPN NFL Insider Adam Schefter. The conditional pick is a sixth-round selection that can become a fifth-rounder based on Lynch's productivity with Seattle. Buffalo's move to deal Lynch clears the way for more playing time for Fred Jackson and first-round draft pick C.J. Spiller. Jones led the Seahawks (2-2) in rushing the last two seasons.
Tennessee Coach Bruce Pearl May Have Crossed The Recruiting Line Before
When Bruce Pearl reportedly invited top junior recruits to his Knoxville home in fall of 2008, violating NCAA rules, it wasn't the first time he crossed that line. Kevin Fitzgerald, the compliance director at the University of Wisconsin-Milwaukee -- where Pearl previously coached -- confirmed that the university self-reported a violation on Aug. 19, 2004 after "Coach Pearl invited a prospect (and his parents) to his daughter's graduation party hosted at his house, a violation of 13.05.5.3." Fitzgerald would not name the recruit. However, multiple sources told ESPN.com that the recruit in question was Mike Schachtner, then a junior at Somerset (WI) High School. NCAA rules prohibit coaches from meeting with high school juniors at off-campus sites. The school is still awaiting a notice of allegations. The NCAA is investigating Tennessee's football, basketball and baseball programs and may combine the investigations into one notice.
Michigan State's Dantonio Plans To Attend Saturday
For the second straight week, Michigan State's Mark Dantonio plans to coach his team from the press box. Dantonio, released from the hospital Monday after being treated for a blood clot in his leg, returned to work Tuesday and said he will be there Saturday when the 17th-ranked Spartans visit archrival No. 18 Michigan. Dantonio said, "As long as I don't have a setback, that's where I'll be."
Dolphins Fire Special Teams Coach
Dolphins Special Teams Coordinator John Bonamego has been relieved of his duties and assistant special teams coach Darren Rizzi will take over. In their 41-21 loss to the Patriots on Monday night, the Dolphins gave up a kickoff return for a TD, had a FG blocked and returned for a TD, and had a punt blocked to set up another TD.
Clinton Portis To Miss Game vs. Green Bay
Washington Redskins running back Clinton Portis doesn't think his injured groin will allow him to play in this week's game against the Green Bay Packers. Portis told 106.7 The Fan on Tuesday that he's still awaiting the results of an MRI on his left groin, which he injured in Sunday's 17-12 win over Philadelphia
Reports: Mike Ilitch, Who Owns Tigers and Red Wings, To Buy Pistons
The Detroit Pistons have found a new owner -- and he knows Motor City sports. The Pistons have decided to sell the team to Detroit Tigers and Detroit Red Wings owner Mike Ilitch, a person involved with the process said Tuesday. The person, who spoke to The Associated Press on the condition of anonymity, said both sides were negotiating financial terms. Ilitch, the Little Caesars pizza mogul, said in August he wanted to buy the Pistons in part to make sure another buyer doesn't move the NBA club out of town.
Sources: Cavs and Bird Talked Before Hiring Scott
Byron Scott coached the Cleveland Cavaliers formally for the first time Tuesday night when the Cavs launched the post-LeBron era with an exhibition game against Charlotte. Scott, however, was not the only prominent alumnus of the Lakers-Celtics rivalry of the 1980s whom the Cavaliers approached to coach the team. They also reached out to Larry Bird, ESPN.com has learned. Sources close to the situation have confirmed that, before naming Scott as their new coach July 2, Cleveland officials contacted Bird to see if they could convince the Indiana Pacers' team president to consider returning to coaching. Bird did take the call, sources said, but quickly informed the Cavs that he had no interest in coaching again.
Reports: More Evidence Against Alberto Contador
Tour de France champion Alberto Contador is already under investigation after testing positive for a banned substance during the Tour. Now multiple reports say he also tested positive for a substance that -- while not banned -- is usually indicative of a blood transfusion. The World Anti-Doping Agency bans transfusions except in a medical emergency. The New York Times reports the test, for a substance found in plastic IV bags, occurred one day before his positive test for clenbuterol, which Contador has said entered his system through tainted meat. Contador's press agent told the Times that Contador "has done nothing illegal". Contador is facing a two-year ban and loss of his Tour title if convicted of a doping offense.
Ichiro's Record Falls In Japan
Former major leaguer Matt Murton has broken Ichiro Suzuki's record for the most hits in a single season in Japanese professional baseball. Murton's two-run single to center in the second inning for the Hanshin Tigers against the Yakult Swallows on Tuesday was his 211th hit of the season. Suzuki set the previous record of 210 in 1994 when he played for the Orix BlueWave.
The Associated Press contributed to this report.