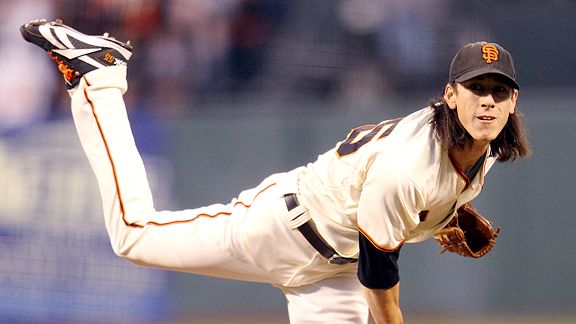 Getty Images
Tim Lincecum pitched a two-hitter and struck out 14 in a dominating postseason debut, and the San Francisco Giants scored their only run after a questionable umpiring call to beat the wild-card Atlanta Braves 1-0 in Game 1 of their NL division series. Lincecum outdueled playoff veteran Derek Lowe and caught a break, too. Cody Ross singled in a run in the fourth after Buster Posey was called safe on a steal of second by umpire Paul Emmel. Posey appeared to be tagged out by Brooks Conrad on the play.
Lance Berkman's Homer And Double Help Yankees Fend Off Twins
Andy Pettitte turned in a vintage postseason performance with seven strong innings and Lance Berkman had two big hits for New York in a 5-2 victory over the Twins on Thursday evening for a 2-0 lead in their best-of-five division series. Berkman hit a go-ahead home run in the fifth and a tiebreaking double in the seventh against Carl Pavano, sending the Twins to their 11th straight postseason loss.
Rangers Take 2-0 Game Lead Over Rays
Michael Young hit a three-run homer after a disputed check-swing, helping C.J. Wilson and the Texas Rangers beat the Tampa Bay Rays 6-0 for a 2-0 lead in their AL division series. Texas is the only current major league franchise that's never won a playoff series. The AL West champions can change that with one win this weekend, when the best-of-five matchup shifts to Rangers Ballpark. Ian Kinsler also homered for the Rangers, who are in the playoffs for the first time since 1999 and hadn't won a postseason game in 14 years before Cliff Lee shut down the sputtering Rays in their home park on Wednesday.
Barry Zito, Jose Guillen Left Off Giants' Roster
The San Francisco Giants are sending $126 million to the sideline. Struggling left-hander Barry Zito was left off the team's playoff roster Thursday for its best-of-five NL division series against the wild-card Atlanta Braves. Zito is making a team-high $18.5 million this year. Also left off: right fielder Jose Guillen, who batted .266 with three homers and 15 RBIs in 42 games for San Francisco, but has been dealing with some neck issues. The Giants acquired him from Kansas City in August and he made 38 starts in right.
Larsen Happy For Halladay On Playoff No-Hitter
Don Larsen was watching the news Wednesday night when he saw an item of particular interest. His most exclusive of clubs had just picked up another member. Larsen saluted Roy Halladay on Thursday for becoming the second pitcher to throw a no-hitter in the postseason, telling The Associated Press in a telephone interview that he was happy for the Philadelphia Phillies right-hander. "Quite a nice effort he had," Larsen said. "You have to give him credit for that." Larsen, who turned 81 in August, and Halladay had almost identical numbers in their postseason gems. Larsen struck out seven in New York's 2-0 victory in Game 5, and Halladay had eight Ks and one walk in his playoff debut against Cincinnati.
Vikings' Moss Talks With Restructured Deal: Will Be 'Fun Ride'
Randy Moss has returned to where it all began. Wearing his familiar purple No. 84 jersey, the star receiver practiced with the Minnesota Vikings on Thursday a day after he was acquired from the New England Patriots in a trade his new team hopes will get them right back in the Super Bowl conversation. "To all the Vikings fans that are coming to the Metrodome, pull your 84 jerseys out, man," Moss said. "I think this is going to be a fun ride." On Thursday, Moss restructured the last year of his contract, according to ESPN NFL Insider Adam Schefter. What the Vikings did was to include a clause that says Minnesota will not place its franchise or transition tag on Moss after this season, when his contract expires and he becomes an unrestricted free agent. The two sides did not change any of the numbers in the deal at this point.
Cutler Ruled Out, So Bears Turn To Collins At QB
With Jay Cutler continuing to recover from a concussion, the Bears will start veteran Todd Collins on Sunday against the winless Carolina Panthers. Collins said Bears coach Lovie Smith delivered the news late Thursday morning. But given his exposure to concussions over a 16-year NFL career, Collins said he expected it. Per NFL guidelines concerning concussions, Cutler underwent examinations Wednesday from team and independent physicians prior to practicing in a limited capacity. A team spokesman said the doctors examining Cutler "all agreed that participation in practice" went well, but wanted to err on the side of caution because it "was the right way to go."
The Associated Press contributed to this report.