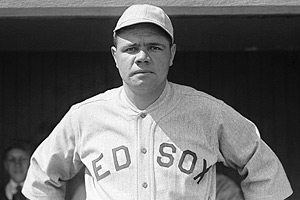 AP Photo/Library of Congress
"Yeah I was on the Red Sox. You got a problem with that?"
October 9, 1916: Pitching a complete game in the World Series is one thing. Pitching a complete game in the longest World Series game is quite another. But that's what Babe Ruth - yes that Babe Ruth - did today, helping the Red Sox to a 2-1 win over the Brooklyn Robins (who would later become the Dodgers) in Game 2 of the World Series, a contest that lasted 14 innings.
Ruth is known, of course, as arguably the greatest hitter in baseball. But he was also a pitching great who, in 1916, led the American League with a 1.75 ERA over 323 and 2/3 innings and had a 23-13 record that season. In Game 2 of the World Series, he earned the win, giving up six hits and three walks, striking out four, and only allowing one run - an inside-the-park homer by Hy Myers in the first inning. The Babe helped his own cause, driving home Everett Scott for a run in the third inning. The score stayed 1-1 through the middle of the 14th until, in the bottom of the inning, pinch-hitter Del Gainer singled in Dick Hoblitzel for the game-winner.
Boston would go on to win the 1916 World Series in five games. The Sox won again in 1918 but, after selling Ruth to the Yankees, would (famously) not win another World Series until 2004.