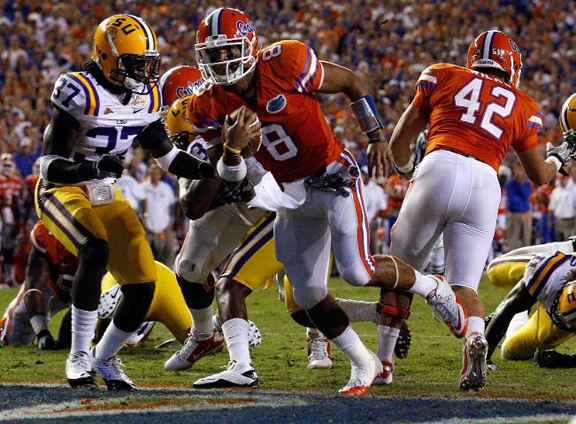 Quarterback Trey Burton #8 of the Florida Gators runs for a touchdown during the game against the Louisina State University Tigers at Ben Hill Griffin Stadium on October 9, 2010 in Gainesville, Florida. (Photo by Sam Greenwood/Getty Images)
FLORIDA GATORS: Quarterback John Brantley and coach Urban Meyer downplayed injuries to Brantley after a loss to LSU on Saturday. But Brantley's injuries were much more significant than many knew. Brantley played the game with hairline fractures in four ribs, a throwing thumb with a broken bone and also throwing shoulder pain that actually caused the school to shut him down on Thursday and Friday before the game. A source said Brantley wore a reinforced protective vest in the game. And the source said Brantley on Wednesday had difficulty lifting his arm because he was overcompensating for his ribs injury and hurt his shoulder. Florida running back/wide receiver Jeff Demps was probable all week with a foot injury but did not play vs. LSU. The SEC has considered an in-season injury report as some BCS leagues use, but the discussion never gained traction.

NORTH CAROLINA: The NCAA on Monday declared North Carolina wide receiver Greg Little and defensive end Robert Quinn permanently ineligible for violations of agent benefits, preferential treatment and ethical conduct rules. The NCAA said Little received $4,952 in benefits and Quinn received $5,642 in benefits. According to the NCAA, Little accepted diamond earrings and travel to the Bahamas, Washington DC and Miami and Quinn accepted two diamond black watches, a pair of earrings and travel to Miami. The NCAA also found that both students provided false and misleading information to investigators.
Also on Monday North Carolina dismissed star defensive tackle Marvin Austin for the same violations of agent benefits. It was previously determined that North Carolina defensive backs Kendric Burney and Deunta Williams would be suspended for six and four games for violations. The NCAA continues to investigate. And North Carolina is also investigating possible academic violations including allegations a tutor wrote papers for players. Austin and Quinn are two of the best defensive players in college football and both should be extremely high selections in the next NFL draft. This is devastating for head coach Butch Davis, who for now, has the public support of UNC administration.
North Carolina athletic director Dick Baddour said in a statement: "It's a sad day when three young men are no longer able to represent their school based on actions they have taken and decisions they have made contrary to NCAA rules. Unfortunately, they made serious mistakes in judgment in accepting extra benefits and then not being truthful with our staff and NCAA representatives. Now they must forfeit the privilege of playing again for the Tar Heels. Although they are responsible for their actions, they are part of our university and our program and we will support them as they move into the next phases of their lives. I know they love to play the game, but I hope they will learn from their mistakes and lead productive and responsible careers. As an institution, we must learn from these mistakes and work with the NCAA and others who love the game of football to repair the environment in which they occurred. College football is a wonderful game, but we need to closely examine and address the agent-related problems. The University of North Carolina pledges to do all it can to do that. I hate that these issues have hurt the University of North Carolina and our fans. We have so much to be proud of as a University. We will learn from this and we will become a better program as a result."

PENN STATE: Could Joe Paterno be headed down the same path that former Florida State coach Bobby Bowden did? Could Paterno actually be asked to step aside after this season? Under the radar a bit, Penn State is 3-3 overall and 0-2 in the Big Ten, tied for last with Minnesota and Indiana in conference play. After an embarrassing homecoming loss to Illinois, Paterno said, "We got the crap kicked out of us." Jay Paterno, the team's quarterbacks coach and Joe's son, said he believes Joe will be "resilient." A New York Post columnist wrote today, "At season's end, Paterno will retire or be retired. They'll retire you for losing before they'll retire you for being 84."


BIG TEN: Ohio State and Michigan State are each 6-0 and tied atop the Big Ten. Yet they don't play each other this season. If the teams finish tied atop the conference but neither is in the Top 2 in the final BCS standings, the tie (and thus Rose Bowl entry) would be broken as such: 1) All games played winning percentage 2) Highest ranked in final BCS standings. There was a time that the Rose Bowl would take the team that had the longest drought, but that has been changed. Thankfully. Though it it still clearly a shame that Ohio State and Michigan State somehow don't face each other this season.





INJURY UPDATES: Oregon State WR and KR James Rodgers will miss the game against Washington this Saturday after suffering a knee injury against Arizona, coach Mike Riley said. Oregon State will probably know the extent of the injury later today. Oregon RB Kenjon Barner was released from a Pullman, Wash., hospital on Sunday after suffering a concussion after being hit during a kickoff return of a win at Washington State. Oregon coaches said Sunday that starting QB Darron Thomas has a sprained AC joint in his throwing shoulder. Thomas was successfully relieved by Nate Costa. The Ducks are off this week before playing UCLA and at USC. Coaches say Thomas could have re-entered the game. Notre Dame TE Kyle Rudolph could be shut down for a week according to coach Brian Kelly because of a lingering hamstring issue. Rudolph had five catches but was laboring against Pittsburgh. The Irish play Western Michigan on Saturday.

Follow Joe on Twitter