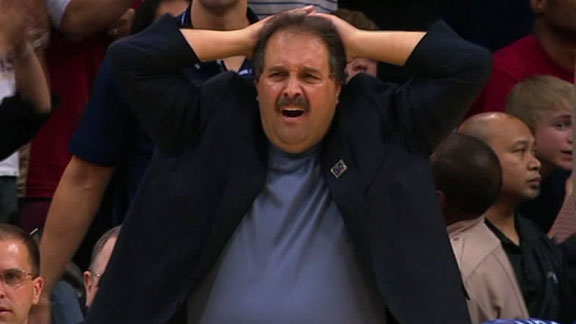 Don't fret, coach. Your signature look is now NBA street legal.
Stan Van Gundy has one less thing to worry about this season. The NBA had decided to revamp its dress code, this time for coaches, endangering the wardrobe of one of the league's most casual coaches. However, in an apparent change of heart (or taste), the NBA declared that it's okay to wear turtlenecks. The clothing requirements for coaches and assistant coaches are as follows:
(a) A long or short-sleeved dress shirt (collared or turtleneck), and/or a dress sweater;
(b) Dress slacks, khaki pants, or dress jeans;
(c) A sport coat;
(d) Dress shoes or boots (but not including sneakers, sandals); and
(e) Socks.
Mock turtlenecks are acceptable.
* * *
Hear that, Steve Jobs? In case you're bored of running Apple, pick your best pair of denim and you'll be good to go on an NBA sideline. While we applaud the "Van Gundy Exception" as a sign of level-headed thinking and fashion sense (no need to force Van Gundy into a Pat Riley look), it wouldn't hurt to see the League extend its powers to protect other coaching styles, such as: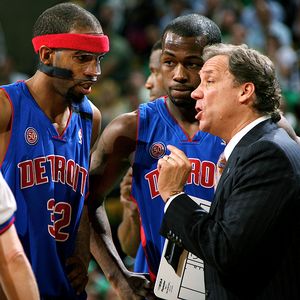 Jesse D. Garrabrant/NBAE/Getty Images
Flip Saunders' Mini Mullet
It's not quite on the order of a Barry Melrose, much less a Jaromir Jagr, but we're waiting on the new Wizards coach to let his "party in the back" live a little, especially since he gets to call the shots for John Wall and Co.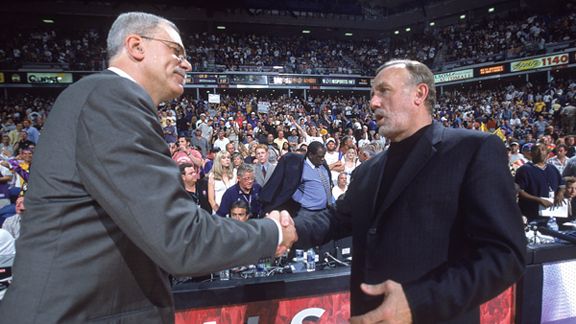 Rick Adelman's All-Black Ensemble
Sure, this look (aka "The Don Nelson") sported by Houston's head honcho may not be the most original, but that's because its main purpose is to be slimming. It's also the closest thing an NBA coach can rock to a ninja suit, and if there's one thing the League could always use more of, it's ninjas.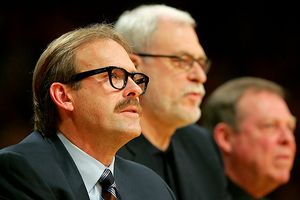 Kurt Rambis' Eyewear
The league should not only enforce goggles and thick black frames, it should require the man who made 'em popular to revert back to them as well. Coach, it just ain't the same since you went with the LASIK surgery.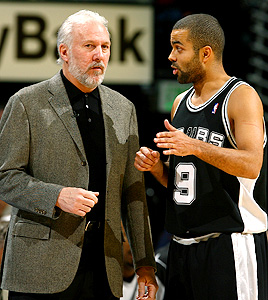 Garrett W. Ellwood/Getty Images
Gregg Popovich's Gorton's Fisherman Beard
Besides granting seaworthiness and an air of dignity to the Spurs' skipper, it's also the perfect complement to any Civil War reenactment on the side.