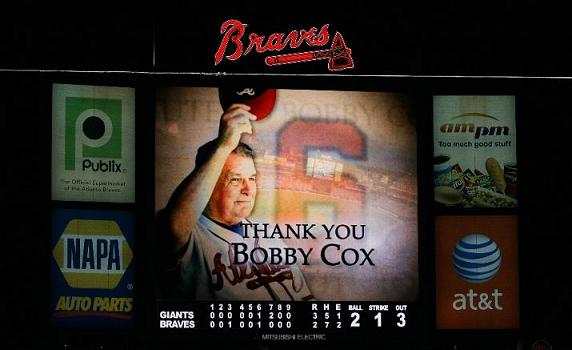 Getty Images
Giants Advance To NLCS By Sending Off Braves And Manager Bobby Cox
San Francisco won another thriller and the Giants are off to the NL championship series for the first time since 2002. Cody Ross homered and drove in the go-ahead run with a seventh-inning single, leading the Giants to a 3-2 victory in Game 4, wrapping up an NL division series that was tight and tense to the very last out. Every game was decided by one run, but the Giants won three of them to take the best-of-five series and earn a shot against two-time defending NL champion Philadelphia. For retiring Braves manager Bobby Cox, there are no more games.
Sources: Favre Sorry For Being A Distraction
During a meeting Monday, Vikings quarterback Brett Favre apologized to his teammates for being a distraction, sources told ESPN senior NFL analyst Chris Mortensen. The NFL is aggressively investigating allegations that Favre sent inappropriate messages and photos to a former Jets employee, a source familiar with the league's review told Mortensen. When asked about the accuracy of the allegations, Favre said, "That will take its course."
UNC Dismisses Austin; Little, Quinn Ineligible
Marvin Austin, Robert Quinn and Greg Little were supposed to lead North Carolina Tar Heels resurgence under Butch Davis this season. Instead, they never even stepped on the field. And the trouble for the football program is still not over. The school kicked Austin off the team Monday while the NCAA declared Quinn and Little "permanently ineligible" amid an ongoing investigation into whether players received improper benefits from agents.
Green Bay Packers tight end Jermichael Finley will undergo arthroscopic knee surgery Tuesday and miss at least three weeks, coach Mike McCarthy said Monday. In addition, quarterback Aaron Rodgers could be sidelined Sunday against the Miami Dolphins with a concussion suffered on the Packers' last offensive play of their overtime loss to the Redskins. McCarthy also said that linebacker Nick Barnett would have surgery on his wrist Wednesday. Multiple reports have stated that Barnett's season is over but McCarthy said he wouldn't give a prognosis on Barnett until after the linebacker's surgery. In addition, tight end Donald Lee, who caught a touchdown pass against Washington, will likely miss a couple weeks with a shoulder injury. The good news? McCarthy said that linebacker Clay Matthews' hamstring injury doesn't appear to be serious.
49ers QB Smith Keeping Starting Job -- For Now
Alex Smith has already watched offensive coordinator Jimmy Raye get fired after San Francisco's awful start. So it's no surprise Smith still wasn't sure where he stood in Mike Singletary's eyes when arriving at 49ers headquarters Monday. The quarterback is keeping his starting job for at least another week. Singletary said he plans to evaluate Smith's status on a week-to-week basis from now on considering the team's 0-5 start and inconsistent offense.
Boise State Projected To Be BCS's Top Team
So who would be the BCS' No. 1 if the standings came out today? Would it be consensus No. 1 Ohio State, the top team in The Associated Press, USA Today and Harris polls? Or maybe fellow unbeaten Oregon, ranked No. 2 and earning first-place votes in all three polls? According to the projection of ESPN's Brad Edwards, it's consensus No. 3 Boise State. According to the projections, the No. 1 Buckeyes would place fifth in the BCS standings, percentage points behind Oklahoma.
Bills Safety Donte Whitner Says Team Is "Laughingstock"
"It's terrible," said Bills safety Donte Whitner. "It's 0-5. We're the laughingstock of the National Football League. I think we're losing fans by the minute. But we can't control that. All we can control is how we perform on the field. There's no team in the NFL that's unbeatable. I feel like we have the talent."
Manager: Iverson, Turkish Team In Serious Talks
Allen Iverson is poised for a revival -- in the Middle East. Iverson, after short-lived stints with the Memphis Grizzlies and Philadelphia 76ers last season, is closing in on a contract to play with the Turkish team Besiktas, according to his business manager. The one-season deal could net Iverson as much as $2 million, Yahoo! Sports has reported, citing unnamed sources.
The Associated Press contributed to this report.