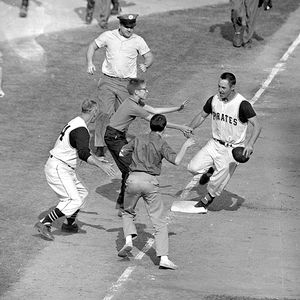 AP Photo
Back in 1960, fans got to run the base paths with their favorite players.
October 13, 1960: With the series tied 3-3, the Yankees and Pirates head to Game 7 on the 1960 World Series from Forbes Field in Pittsburgh, Pennsylvania. Fresh off a 12-0 win in Game 6, New York sends Bob Turley, Game 2's winning pitcher, to the mound.
Unfortunately for New York, Turley didn't last too long. After giving up two first inning runs and walking the first batter in the second inning, Turley's pulled from the game. The Pirates put up two more runs in the second giving them a 4-0 lead after two innings.
Then, the Yanks erupted with seven unanswered runs between the fifth and eighth inning to take a 7-4 lead into the bottom of the eighth. Fueled by their home crowd, the Pirates slammed the Yanks for five runs of their own behind a three-run homer by Hal Smith to take a 9-7 lead into the ninth inning. But after a couple of singles and some nifty base running by Mickey Mantle, New York ties the game.
Tied 9-9 in the bottom of the ninth, Bill Mazeroski steps to the plate to face Ralph Terry. With the count 1-0, Mazeroski cracks a solo shot over the left field wall giving the Pirates their first world championship in 35 years.