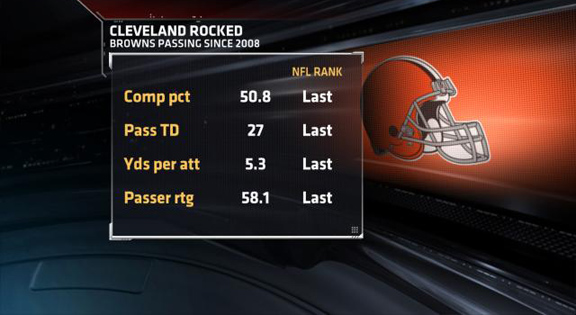 CLEVELAND'S NEW GUN SLINGER: Colt McCoy can't do much worse than the Browns quarterbacks that have come before him. Since the start of the 2008 season, they rank last in many passing categories. This year, the Browns have improved -- ranking 22nd in passing yards per game.
After the jump, find out what happens when a team falls to 1-4 in the NFL, Tony Romo's numbers when facing 5+ pass rushers and we examine A-Rod's and Teixeiria's Texas homecoming.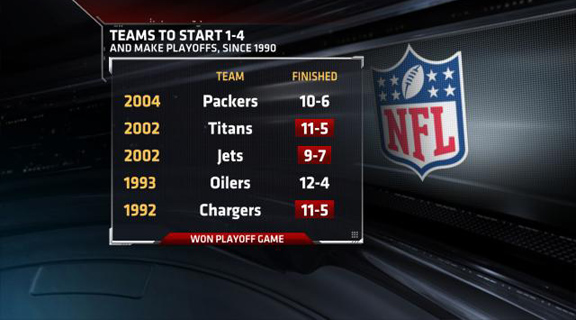 1-4...OH MY!: The loser of the Cowboys Vikings game will start the season 1-4. Since 1990, there are 5 teams to make the playoffs after a 1-4 start.
Brett Favre is familiar with slow starts as the last team to do so was the 2004 Green Bay Packers. Surprisingly enough 3 of those 5 teams have won a playoff game including ESPN's own Herm Edwards 2002 squad that handed Peyton Manning his worst postseason loss in his career.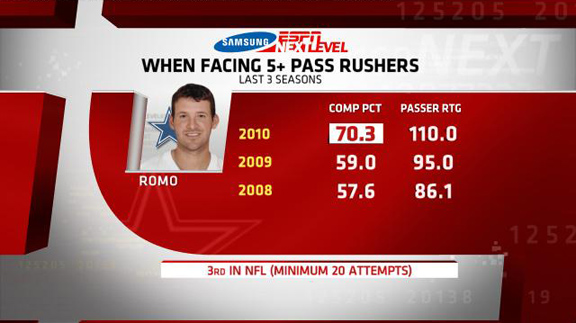 P-R-E-S-S-U-R-E: While the Cowboys have been feeling the pressure of a bad start, Tony Romo has handled the pressure of pass rushers. This year when facing five or more rushers, Romo is completing 70 percent of his passes, which ranks 3rd in the NFL. In the previous 2 seasons, Romo completed below 60 percent in that situation.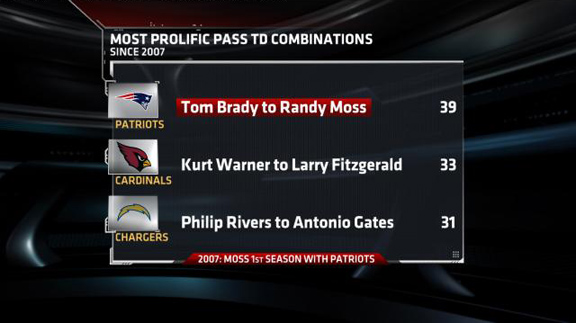 THANKS FOR THE MEMORIES: Over the 3-plus seasons Randy Moss was with the Patriots, no combination was more lethal in terms of touchdowns than Tom Brady to Moss. It's even more amazing when you factor in Brady missed all but 1 quarter of the entire 2008 season. Moss finishes with 50 receiving touchdowns, tied for 2nd in Patriots history.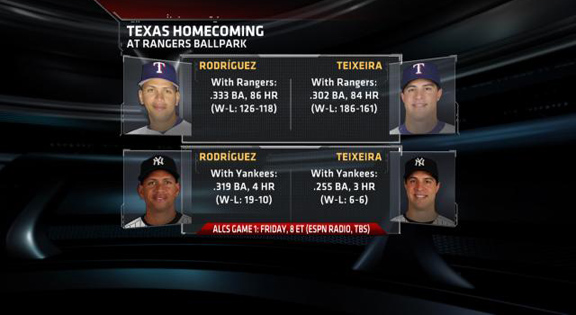 WELCOME HOME BACK: A-Rod and Mark Teixeira each had great power numbers at Rangers Ballpark while with the Rangers. They both hit the most home runs at the ballpark during each of their respective tenures. With the Yankees, A-Rod still has hit well there while Tex has a .255 batting average.
NOTE: The Elias Sports Bureau and ESPN Stats and Information group contributed to this report.